By Mehdi Garshasbi
A wake-up call from the environment
November 6, 2022 - 18:24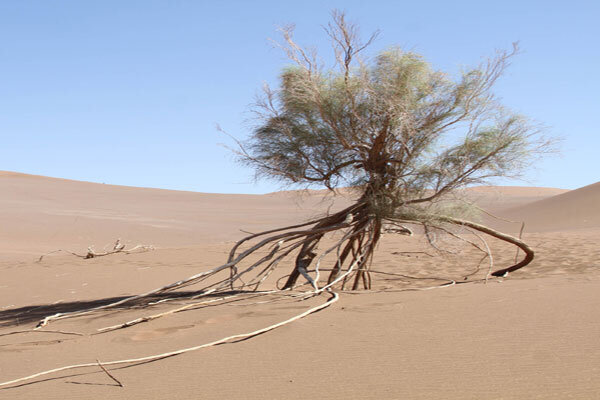 TEHRAN - Desertification has set off alarming bells in Iran, threatening approximately 88 percent of the land nationwide.
Of 31 provinces of the country, 22 provinces covering an area of 29.5 million hectares are affected by the plague of desertification.
In Iran, where most of the land is in either arid or semi-arid areas, drought and water shortages are becoming serious problems as a result of climate change, said Vahid Jafarian, an official with the Forests, Range, and Watershed Management Organization.
A lack of finance is one of the serious challenges and concerns in the field of dealing with desertification, he told ISNA.
The issue of financial resources is not the first and last issue, but coordinated planning and aligned policies and support of laws should be seen prominently in this regard, he stressed.
According to the studies conducted by the University of Tehran and the Ministry of Energy, about 88 percent of the country's area is affected by desertification.
The concept of desertification refers to land destruction and vulnerability in arid and semi-arid areas, in terms of land mismanagement.
According to the studies conducted by the University of Tehran and the Ministry of Energy, about 88% of the country's area is affected by desertification.In this situation, the biological capability and fertility of the land decrease and it is very difficult to return to the original conditions, Jafarian noted.
Desertification comes majorly from overexploitation of underground water resources and contamination of water through releasing industrial and agricultural waste into the environment.
Human activities are a primary cause of desertification. These activities include overgrazing of livestock, deforestation, over-cultivation of farmland, and poor irrigation practices.
Considering that Iran is located in an arid and semi-arid area, its vegetation is threatened by climate change and declining precipitation year by year.
30m ha plagued by wind erosion
The latest studies conducted in 2018 indicate that 30 million hectares of land in Iran are affected by wind erosion, of which about 14 million hectares are known as critical centers of wind erosion. These centers are areas that damage the biological and economic resources of the country, Jafarian explained.
Agricultural lands, roads, railways, industries, and all infrastructures in these areas are affected by wind erosion and are damaged.
Over $100m annual loss
According to the studies, wind erosion incurs a loss of at least 30 trillion rials (about $100 million) annually to the quality of life in villages located in desert areas.
If we want to just maintain the existing conditions, we must implement sustainable land management programs and combat desertification in at least one million hectares of vulnerable areas of the country per year, Jafarian said.
"One of the most important underlying causes of the intensification of wind erosion in the country, especially in recent years, is related to the way water resources are managed, the decline of underground water, and the lack of water rights."
Plans to combat desertification
Iran is home to about 3.8 percent of the world's total desert areas. Some 61 percent of the country's area is covered by arid and semi-arid lands, which is 3.1 times the global average.
Many countries are working to reduce the rates of desertification. Trees and other vegetation are being planted to break the force of the wind and to hold the soil.
Iran has a 70-year history of dealing with desertification and dust control, with about 5 million hectares of planted forests in sand and dust storm hotspots, especially in areas with less than 50 mm of rainfall, Ali Mohammad Tahmasebi, head of the national working group for mitigating sand and dust storms, has said.
Studies by international organizations show that the Islamic Republic has recorded the highest number of reforested desert areas after China, he added.
Parviz Garshasbi, deputy head of the Forests, Rangelands, and Watershed Management Organization, has said that according to the Sixth National Development Plan (2016-2021), desert greening measures were to be carried out in 1,140,000 hectares of the country's deserts, but so far, the operations have been conducted in only 350,000 hectares of deserts.
Between 2015 and 2020, approximately 12,000 hectares of forests across the country have been wiped out annually, the Organization has said, putting the country's forests at 14.3 million hectares
To deal with the problem, the Organization has launched two comprehensive plans to mitigate desertification.
These projects include watershed management, aquifer, flood control, desertification, forest development, rangeland rehabilitation, conservation, and support projects aimed at conserving water and soil, protecting vegetation, preventing erosion, and reducing drought and nutrition damage.
The national budget bill for the current Iranian calendar year 1401, which started on March 21, has allocated 16 trillion rials (about $53 million) for watershed management, which is nearly fourfold the budget for the previous year.