Iran FM upbeat over opening of talks between Ankara and Damascus
January 18, 2023 - 22:2
Amir Abdollahian meets Turkish president in Ankara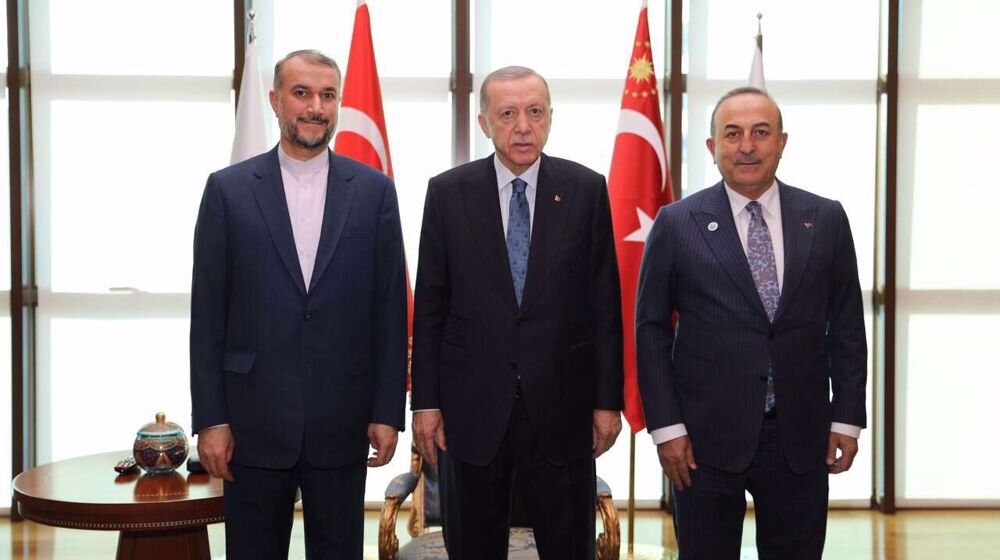 TEHRAN- Iranian Foreign Minister Hossein Amir Abdollahian held talks on Tuesday with Turkish President Recep Tayyip Erdogan as well as his Turkish counterpart Mevlut Cavusoglu in Ankara.
Amir Abdollahian, who was in Turkiye to take part in the 8th Iran-Turkiye Commission meeting, discussed the impending visit of President Ebrahim Raisi to Turkiye.
Amir Abdollahian also expressed optimism that the opening of talks between Ankara and Damascus will advance the peace process between the two nations.
Erdogan stated that Tehran-Ankara ties are significant, noting that Iran's participation in the Astana Process for talks on Syria is crucial.
He also expressed confidence that Iran can help implement novel strategies in these talks.
The Turkish leader emphasized that "there is no limit to the expansion of comprehensive cooperation between the two neighboring countries."
The two parties at the commission meeting also stressed the significance of the trilateral talks between Iran, Turkiye, and Azerbaijan.
Iran says it's 'extremely satisfied' with improvement in Turkish ties with Syria
The efforts toward Turkish-Syrian reconciliation have the full support of the Islamic Republic, according to Amir Abdollahian, who further emphasized that any improvement in their ties would be in the best interests of the whole region.
"We feel any constructive growth in ties between Ankara and Damascus would help our region and our nations. We are quite delighted that ties between Damascus and Ankara are experiencing improvement," Amir Abdollahian said in a joint press conference with his Turkish counterpart.
Given its close ties to both Turkey and Syria, the Islamic Republic will never spare any opportunity to fulfill such an objective, the senior Iranian diplomat added.
For his part, Cavusoglu emphasized that Turkey and Iran both agreed that Syria's territorial integrity should be protected.
Additionally, he added that he plans to meet with Syrian Foreign Minister Faisal Mekdad for the first time "in the near future."
The Turkish official had previously mentioned that he may meet his Syrian counterpart next month to discuss plans for a historic summit between the Turkish and Syrian presidents.
"Today, we stressed the importance of Iran's involvement to this process," he remarked.