Abdollahian says Foreign Ministry will follow Leader's guidelines
May 21, 2023 - 20:20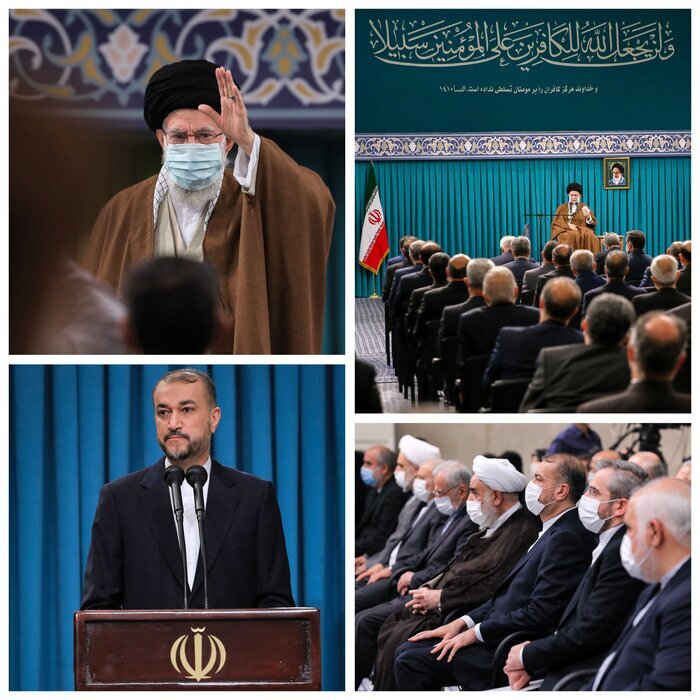 TEHRAN - The profundity of the Leader of the Islamic Revolution's strategic perspective on the changing world order and his emphasis on effective foreign policy will serve as the ministry's guiding principles, Foreign Minister Hossein Amir Abdollahian says.
Amir Abdollahian made the remarks on Saturday, hours after Foreign Ministry officials and Tehran's diplomats to foreign countries met with Ayatollah Ali Khamenei.
"Today, at the start of a meeting of ambassadors and heads of political, international and consular representative offices, we visited Iran's Leader Ayatollah Seyed Ali Khamenei and received his deep views on foreign policy and international relations," Amir Abdollahian wrote on his Twitter page.
He added that the Foreign Ministry will continue to adhere to Ayatollah Khamenei's "strategic views on changes in the world order and his emphasis on an effective foreign policy."
Addressing a group of Foreign Ministry officials and ambassadors to other countries on Saturday, Ayatollah Khamenei delineated the meanings of the three keywords "honor, wisdom, and expediency" in the Iranian foreign policy.
The Leader described lack of reliance on principles in foreign policy as a violation of honor and the cause of hesitancy.
Ayatollah Khamenei described the meaning of "wisdom" as speech and behavior that is "wise, well thought-out and prudent."
The Leader of the Revolution called lack of unwarranted trust in the other parties as another concept of "wisdom."
Ayatollah Khamenei explained six mandatory rules in foreign policy, underlining that "compliance with these indicators is a sign of successful foreign policy, and if these rules are not observed, there will be problems either in the theory of foreign policy or in the functioning and operations of diplomacy."