Jameh Mosque of Isfahan offers journey through Islamic architectural styles
November 13, 2016 - 7:53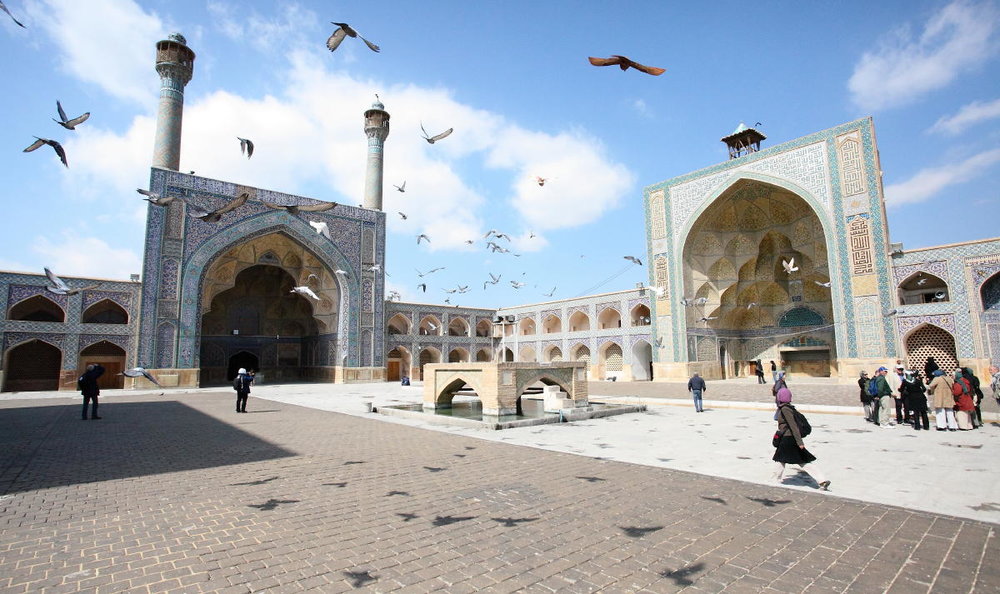 TEHRAN – Located in the central Iranian city of Isfahan, the Jameh Mosque, or Masjed-e Jameh in Farsi, is of deep architectural significance as it shows off designs employed for more than one millennium, starting in about 840 CE.
Covering over 20,000 square meters, it stands adjacent to the world-famous Imam Mosque in south side of the historical Naqsh-e Jahan (Imam) Square, the second largest in the world after Tiananmen Square in Beijing.
Placed on the UNESCO World Heritage list, the mosque is still functional as a busy place of worship in the historical precinct of the city.
It features evolutionary yet remarkable decorative tilework, stucco and other intricate geometric details, majority of which date back to the Seljuk, Mongol, and Safavid eras.
As per architectural point of view, it is one of the early Islamic buildings constructed upon the four-courtyard layout that originally practiced in making palaces during the Sassanid-era Iran (224 CE to 651).
The UNESCO proclaims that the double-shelled ribbed domes of the mosque represent an architectural innovation that has been inspired designers throughout the region.
Here is a select of comments that visitors to the historical mosque have posted to TripAdvisor, one of the most popular travel websites in the world:
"Place to see the broad sweep of history"
This huge complex dates back over 1000 years. You can trace the evolution of the mosque complex and see the different architectural styles - as well as the damage caused by bombs during the Iran-Iraq war… (Tracy K. from Los Altos, CA; visited October 2016)
"After many mosques still worth to pay a visit"
After visiting so many mosques it was still pretty impressive. We thought we would stay there just for 30 minutes but it took almost 1 hour.(Rexonaut from Belgium; visited May 2016)
"The tourism price is not worth it"
At the time we were checking out this place it was under construction and the price has become quite sad - 200,000 rials (5 EUR) for every place you want to enter. The natives pay 50,000 rials but tourism price has now become x4, it is the same price for entering Persepolis which I think is totally not fair for a 10-15min visit.
The architecture itself is amazing of course, 1000 years of history. (Andris V. from Riga, Latvia; September 2016)
"Old mosque full of Friendly people"
I visited this mosque in the evening when it was closed for tourist, but I could enter and experience the evening prayer. This was a lively experience with people praying and others walking around. As always in Iran people were friendly. (Dutch G., the Netherlands, visited June 2016)
The picture above shows a view of the historical Jameh Mosque in Isfahan depicting its south and west iwans.
AFM/MG