Dozens of Rohingya Muslims missing as boat sinks off Bangladesh
December 6, 2016 - 20:2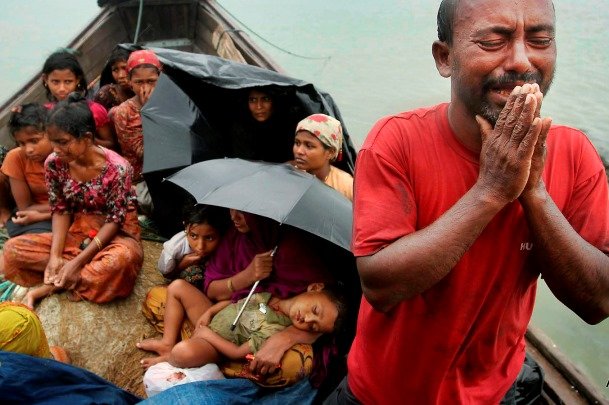 Dozens have been reported missing, feared drowned, after a boat packed with Rohingya Muslims fleeing violence in Myanmar and trying to reach Bangladesh sank in a border river.
A Bangladeshi fisherman told AFP that he had rescued on Monday one woman, who told him that the "overcrowded" boat had sunk in the Naf river, after it was chased by a Myanmar army speedboat.
"We heard a woman's desperate cry for help in the morning while we were fishing in the Naf. We quickly paddled to the spot and saw she was fighting to stay afloat," fisherman Suman Das said by phone.
"The woman told us that their boat was overcrowded with Rohingya villagers who tried to cross the river to enter Bangladesh."
The woman did not know what had happened to the others, and Das could not say how many people were on the boat.
But the private UNB news agency, quoting a Bangladeshi village councilor, said there were at least 31 Rohingya on board.
A Rohingya source told AFP by phone that the bodies of 13 women and children, two of whom had bullet wounds, had washed ashore in his village on Myanmar's side of the Naf.
This could not be independently confirmed, however, and Bangladesh police and border guards said they were not aware of the incident.
21,000 Rohingya fled Myanmar crackdown to Bangladesh
Meantime, the International Organization for Migration (IOM) says nearly 21,000 Rohingya Muslims in Myanmar have fled persecution and violence to Bangladesh in the past two months.
"An estimated 21,000 Rohingyas have arrived in Cox's Bazar district between October 9 and December 2," Sanjukta Sahany, head of the IOM office in Bangladesh's southeastern district bordering Rakhine, said on Tuesday.
Most of those who crossed the border have taken refuge in makeshift settlements, official refugee camps and villages, she added. The figure is based on the data collected by UN agencies and international NGOs.
Myanmar's military has launched a fresh wave of crackdown on Muslims since an alleged attack on the country's border guards on October 9 left nine policemen dead. The government blamed the Rohingyas for the assault.
There have been numerous accounts by eyewitnesses of summary executions, rapes and arson attacks against Muslims since the crackdown began. The military has blocked access to Rakhine and banned journalists and aid workers from entering the zone.
At least 30,000 Rohingyas have been internally displaced in Rakhine, while thousands of others have tried to reach Bangladesh over the past month to seek refuge among the Rohingya people who already live there.
The United Nations has warned that ongoing human rights violations against the Rohingyas in Rakhine could be tantamount to "crimes against humanity."
The Bangladesh government has also come under fire for pushing back Rohingya refugees, with Muslim groups and the opposition urging the country to open its border to the displaced people.
On Tuesday, Bangladesh police said its forces had banned 10,000 Muslim protesters from marching to the Myanmar embassy in Dhaka to demonstrate against the ongoing "genocide" of the Rohingyas.
Rakhine has been the scene of communal violence at the hands of Buddhist extremists since 2012. Hundreds of people have been killed and tens of thousands have been forced from homes and live in squalid camps in dire conditions in Myanmar, Thailand, Malaysia and Indonesia.
The government denies full citizenship to the 1.1 million-strong Rohingya population, branding them illegal immigrants from Bangladesh. However, many believe the Rohingyas are a community of ancient lineage in Myanmar.
According to the UN, the Rohingyas are one of the most persecuted minorities in the world.
(Source: agencies)