Trump, King Salman agree to enforce Iran nuclear deal
January 30, 2017 - 20:55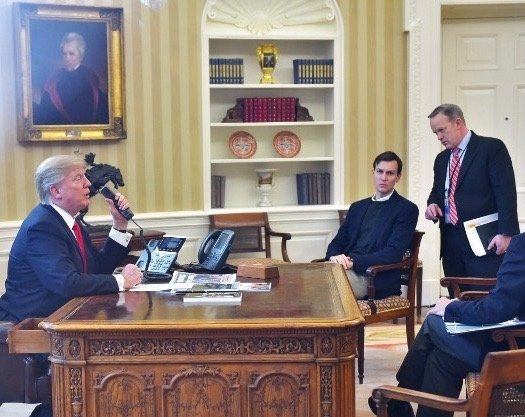 U.S. President Donald Trump and Saudi King Salman pledged to "rigorously" enforce the Iran nuclear agreement, despite Trump's campaign promise to "tear up" or "renegotiate" the deal which he described as "one of the dumbest deals" he's ever seen.
During a phone conversation on Sunday, the two sides also insisted on the need to counter the spread of "radical Islamic terrorism" and establish safe zones in Syria and Yemen, according to the White House.
The also pledged to address what they called Iran's "destabilizing regional activities".
In a controversial move to fight "radical Islamic terrorism" – as he wishes to call it – Trump decided to ban immigrants and refugees from seven Muslim-majority countries, including Iran, Iraq, Libya, Somalia, Sudan, Syria and Yemen.
The measure sparked widespread outrage, with demonstrations held at airports across the United States to condemn the executive order that went into force on Friday.
Many argued that the order did not include Saudi Arabia, home to 15 of the 19 terrorists involved in the 9/11 terror attacks, due to President Trump's personal business interests in that country.
During his campaign trail last year, Trump expressed admiration for the Saudis. "They buy apartment from me," he said. "They spend $40 million, $50 million. Am I supposed to dislike them? I like them very much."
According to statistics tallied by the conservative-leaning Cato Institute, between 1975 and 2015 not a single American was killed by citizens of any of the countries on the list. It's no surprise that Trump does not hold any business interests in those countries.
Based on the same statistics, nearly 3,000 Americans were killed by citizens from Saudi Arabia, the United Arab Emirates and Egypt during the same period. However, none of these countries are on Trump's ban list.
Iranian Foreign Minister Javad Zarif called Trump's Muslim ban "a great gift to extremists".
Zarif said the discriminatory behavior will only aid terrorist recruitment and Iran will take "reciprocal measures".
MH/PA