By: Ebrahim Fallahi
Iran, Slovakia join hands to boost economic ties
March 7, 2017 - 19:33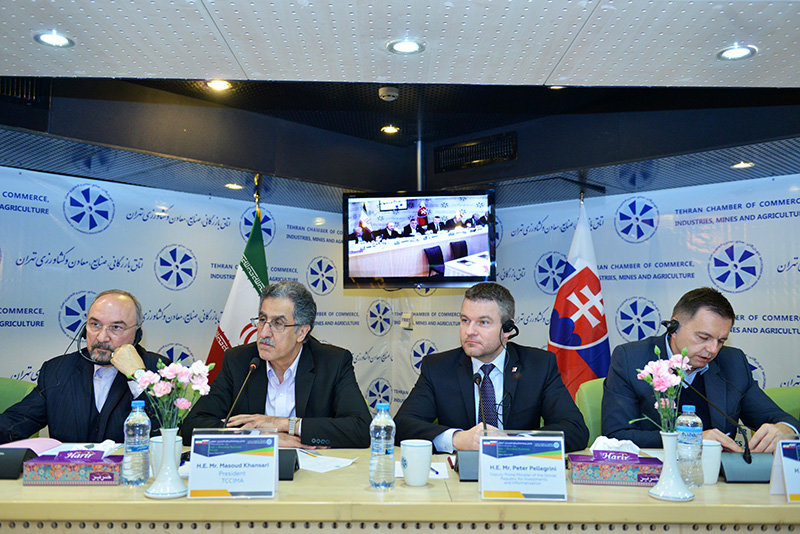 TEHRAN – Attended by senior officials and company representatives, an Iran-Slovakia business forum was held at Tehran Chamber of Commerce, Industries, Mines and Agriculture (TCCIMA) on Tuesday.
Heading a high-ranking trade delegation, Slovakian Deputy Prime Minister for Investments and Information Peter Pellegrini attended the event alongside the chairman of TCCIMA Masoud Khansari and the head of Organization for Investment, Economic and Technical Assistance of Iran (OIETAI) Mohammad Khazaie.
Slovakia's Economy Minister Peter Žiga and Finance Minister Peter Kazimiras as well as representatives of Slovakian and Iranian private companies were also present in the event.
During the meeting both sides emphasized the need for expansion of economic cooperation and expressed willingness for boosting bilateral trade ties.
'Banking relations cornerstone of trade ties'
Starting the meeting, the head of TCCIMA mentioned Iran-Slovakia long history of trade cooperation and noted, "Since Slovakia is a Eurozone member there is great potential for economic cooperation in various areas."
"Among others, infrastructure, auto industry, communication, transportation, agriculture, and water management could be named as areas for joint investment," he stated.
"Establishing Iran-Slovakia Joint Chamber of Commerce and enhancing financial, banking and insurance relations between the two countries could pave the way for development of bilateral ties," he added.
"Iran has provisioned a $50-billion annual foreign investment attraction in its development plans and Slovakia could be a good partner in fulfilling a part of this goal," the official noted.
According to Khansari, establishing good banking relations and removing barriers in this area are the first steps toward good economic and trade relations and Iran expects the Slovakian side to take the necessary measures in this regard.
'Joint Economic Committee meeting to be held by yearend'
Further in the event, the Slovakian deputy prime minister mentioned the establishment of Iran-Slovakia Joint Economic Committee and announced that the first round of the committee's meetings will be held by the yearend in Tehran.
He invited Iranian companies and private sector to seek new business, investment and trade opportunities in Slovakia in order to fully exploit the potentials of bilateral trade.
'Slovakia to help promote Iran's credit risk'
In another part of the meeting, Khazaie expressed appreciation for Slovakia's cooperation with Iran regarding the promotion of the country's credit risk from 7 in 2015 to 6 in 2016.
"We thank our Slovakian partners for helping the country promote its credit risk and hopefully with the support and help of Slovakia there will be yet another promotion from 6 to 5 in 2017," he said.
Elsewhere in his remarks, Khazaie mentioned Iran-Slovakia trade turnover and noted, "Although the growth rate of trade between the two countries is promising (between 2014 and 2016 the level of trade between the two countries witnessed 40%-50% boost) but the level of trade is a little more than €25 million which is relatively low."
"The figure should be at least €1 billion considering the two countries' great potentials," he stressed.
'Slovakia targets €100m annual trade with Iran'
At the end of the meeting, the Slovakian finance minister mentioned signing of two agreements between Iran and Slovakia during his last year's visit to the country and noted, "Last year we signed two agreements regarding double taxation avoidance and promotion and protection of investment between the two countries, which both have been ratified by Iranian Parliament."
"For Slovak companies Iran is a great market and we hope that such forums stimulate deeper and better trade relations between the two sides," Kazimiras stated.
"I am pleased to also announce that we are planning to increase our annual trade level with Iran to €100 million and this will be possible only with good banking relations," he added.
He further named auto industry, renewable energies, oil, gas, mining, healthcare, information technology and financing as potential areas of cooperation between the two countries.