Encounter with Iranian ships 'safe and professional', U.S. navy claims
July 31, 2017 - 10:5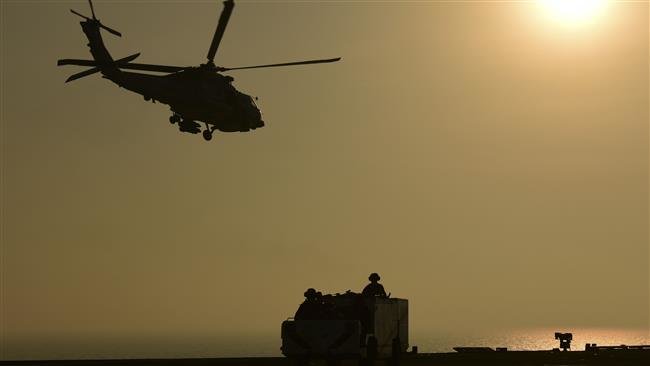 TEHRAN – The U.S. navy's Bahrain-based fifth fleet has claimed its encounter with Iranian vessels in the Persian Gulf had been "safe and professional".
The IRGC said on Saturday that U.S. navy ships came close to its vessels in the Persian Gulf on Friday afternoon and shot flares.
A U.S. aircraft carrier sent a helicopter near the Resalat oil and gas platform and approached the IRGC's ships, IRGC Navy said in a statement.
"The Americans made a provocative and unprofessional move by issuing a warning and shooting flares at vessels," the statement said. "Islam's warriors, without paying attention to this unconventional and unusual behavior from the American vessels, continued their mission in the area and the aircraft carrier and accompanying battleship left the area."
The statement added, "Days after an American ship fired two warning shots in front of a Guards Navy boat in the northern Persian Gulf, American ships committed a similar act in the Persian Gulf's middle zone."
A U.S. Navy spokesman, Lt Ian M McConnaughey, said after communications were established the U.S. saw the Iranians conduct a "gun exercise", adding that the move involved firing weapons into the water away from U.S. ships.
Last Tuesday, a U.S. ship fired warning shots when an Iranian vessel came within 150 yards, U.S. officials said. The encounter occurred in the Persian Gulf.
The IRGC said one of its patrol ships had neutralized the act, noting its boat paid no attention and continued with its mission and after a while the U.S. vessel left the area.
Years of hostility between Tehran and Washington eased slightly near the end of the Obama administration, as sanctions imposed on Iran for its nuclear program were lifted under an international nuclear agreement.
However, Donald Trump's victory in 2016 U.S. presidential election, gave new fuel to the long-standing enmity due to his periodic anti-Iran rhetoric and actions.
During his presidential campaign, Trump vowed that any Iranian vessels that harass the U.S. navy in the Persian Gulf would be "shot out of the water".
MH/PA