Ganjali Khan complex evokes everyday life in Safavid-era Iran
August 2, 2017 - 18:29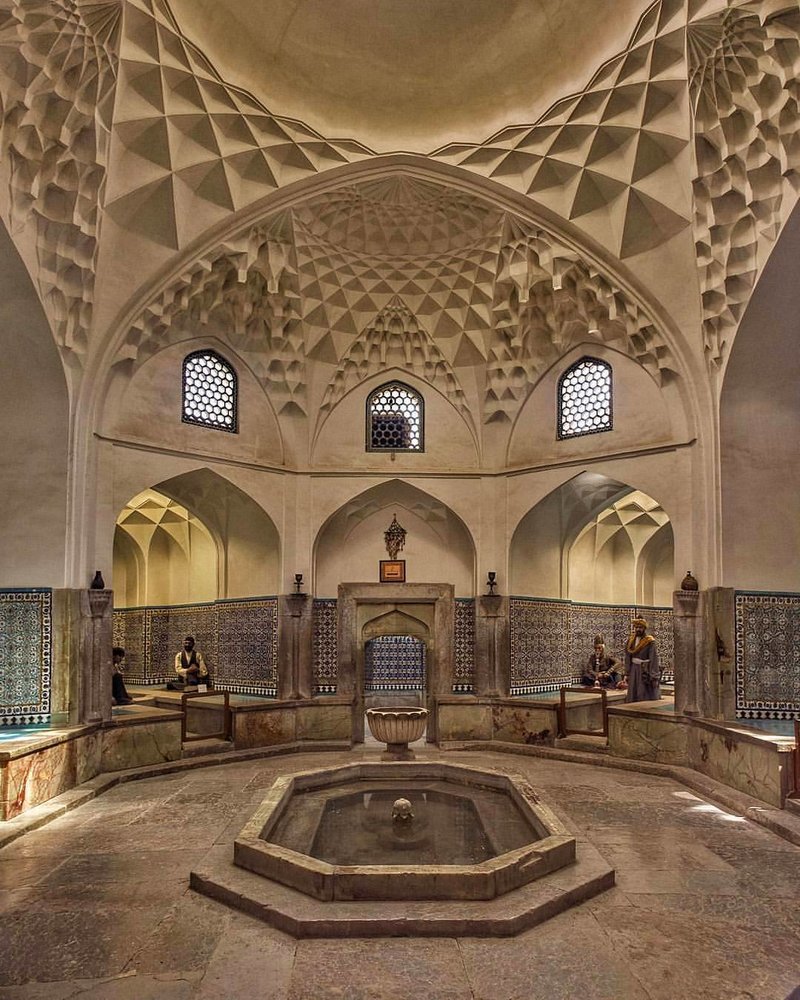 TEHRAN - With its lavishly decorated structures and abundant wax dummies clad in indigenous outfits, the historical Ganjali Khan complex evokes traditions, culture and everyday life in Iran during Safavid dynasty.
Located in Kerman, southern Iran, the complex is composed of a madrasa, a mosque, a caravanserai, a bathhouse, or hammam, a water reservoir and a labyrinth bazaar, all centered on a large public square.
Covering an area of 11,000 square meters, the compound was built upon the order of Ganjali Khan who governed Kerman and some neighboring areas during the late 16th to early 17th centuries under Safavid Shah Abbas I (r. 1571-1629).
With an entrance at the northeastern corner of the square, the mosque though is small in size enjoys elaborate tilework and arabesque designs. It boasts a gilt-pattern inner dome and honeycomb windows.
The hammam has been repurposed into an anthropology-like museum in which wax dummies illustrate the workings of a traditional bathhouse. There is also a display case of antique washing utensils.
The bazaar is ornamented with exquisite plasterwork and wall paintings that are well-preserved although they are roughly 400 years old.
The caravanserai is based on the four-iwan typology, with guest rooms constructed around a courtyard. Shah Abbas I (1571-1629) is credited with building a network of caravanserais across Iran during the much later Safavid dynasty.
Under tourists' eyes:
Here is a select of comments that visitors to the complex have posted to TripAdvisor, one of the most popular travel websites in the world:
'Interesting waxworks, fascinating tiles'
The waxworks clearly illustrate the activities which took place in the old hammam: including a rather chubby chap being cleaned! However, the tiles are beautiful and surprisingly includes figures of both men and women. (Jane_9758 form the UK; visited April 2017)
'17th century complex, well preserved'
Within the bazaar, it contains a caravanserai and a hammam. Beautifully preserved, the hamam shows through life-size mannequins the life in a bath in Safavid times. Recommended. (Stefano M. from Malaysia; visited April 2016)
'Nice hamam-museum in great surroundings'
The hamam-museum is very well restored, a must-see in Kerman.
Even better is the atmosphere of the great bazaar that is around and follows to the Masjid Jameh, one of the best experiences in the whole Iran. (Marek L. from Czech Republic; visited November 2016)
'Interesting cultural place'
It is a really interesting place to visit if you go to Kerman. You get to see the Iranian culture which is very different. There are statues of men to show how this place used to be. (Ehsan-Reznov from Afghanistan; visited February 2016)
'Absolutely gorgeous'
The complex consists of traditional hammam, masjid, bazar, caravanserai, ...
This is the old town center of Kerman, so a visit to Kerman will not be complete without visiting this beautiful buildings and getting a sense of old time downtown.
From all the sights on offer in this complex, I recommend to visit the male traditional hammam. The hammam is restored very nicely. There are signs and mannequins explaining and showing how bathing was done years ago. The blue tiling of the inside is gorgeous. Also all the copper hammam accessories on display… (Hoda J. from the UK; visited March 2016)
CAPTION: Photo depicts a traditional bathhouse, part of the Ganjali Khan complex in Kerman, southern Iran
AFM/MG