Irish Senate delegation meets Iranian female lawmakers
October 9, 2017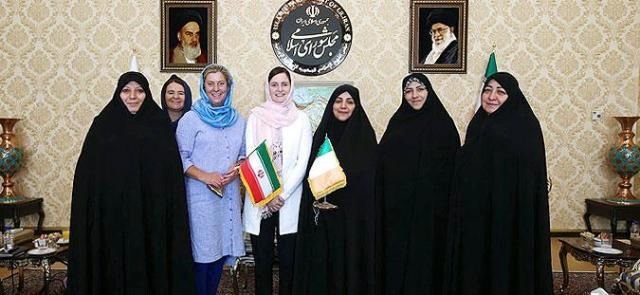 TEHRAN – An Irish Senate delegation paid a visit to the Iranian parliament (Majlis) on Tuesday, discussing ways with the women's faction of Majlis to strengthen bilateral ties.
The two sides welcomed the idea of forming a joint parliamentary working group, said Parvaneh Mafi, an MP and member of the women's faction of Majlis.
Referring the history of relations between the two countries, Mafi emphasized the need for further expansion of relations in all fields, IRNA reported.
Commonalities between the two nations, especially cultural commonalities, lays the ground for further expansion of friendly ties, she noted.
Zahra Saei, another member of the Majlis women's faction said during the meeting that women will play a crucial role in further development of Iran-Ireland ties.
Elaborating on the faction's activities, she said that Iran has made remarkable progress in the field of women's rights, including their presence in different fields while maintaining their status.
Noting that Iran-Ireland relations have always been on an upward trend after the victory of the 1979 Islamic Revolution, the lawmaker said that women are assuming a greater part in further expansion of bilateral ties.
Members of the Irish parliamentary delegation, for their part, voiced their interest in promoting ties with Iran, particularly in cultural, scientific and academic domains.
Irish Senator Katherine Ada said that women are standing next to men with all in power to build future.
NM/MG