Darvazeh Quran and good wishes for the passersby
January 8, 2018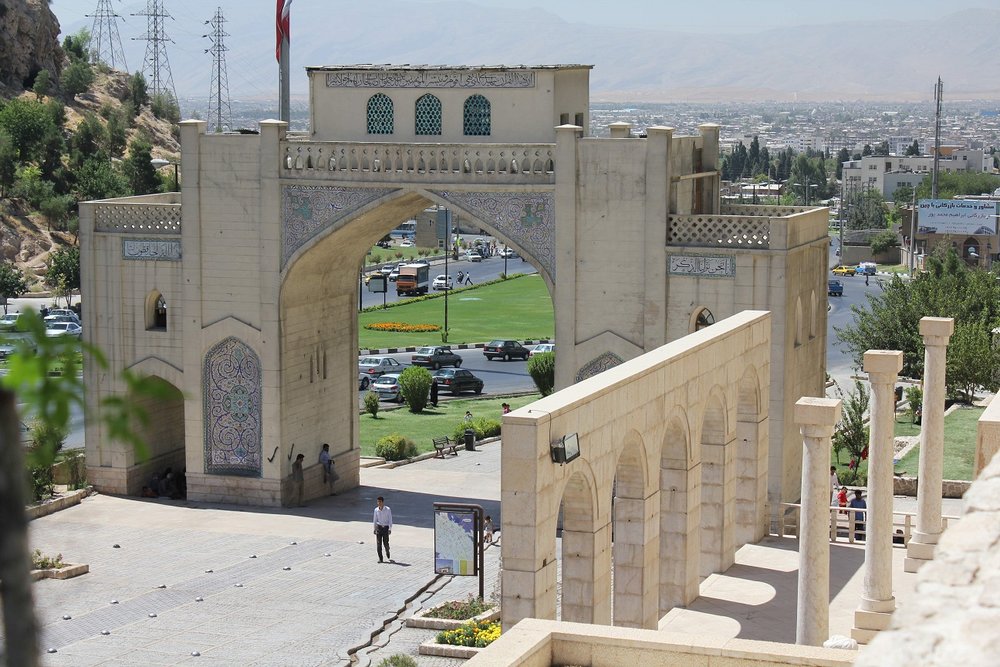 TEHRAN – Standing at an entrance to Shiraz, Darvazeh Quran, a semi-historical gate, salutes travelers to the southern Iranian ancient city.
The gate is believed to bless people who pass beneath it before they undertake journeys by means of a copy of the Holy Quran being embedded at a small room atop.
The rectangular-based monument was initially built in the 18th century during Zand dynasty. However, it succumbed to several multiple quakes, which stroke the city during Qajar era (1785 to 1925).
Over its history, the monument has underwent several restoration and renewal projects, last of which was carried out recently for renovating its façade and bolstering its foundation.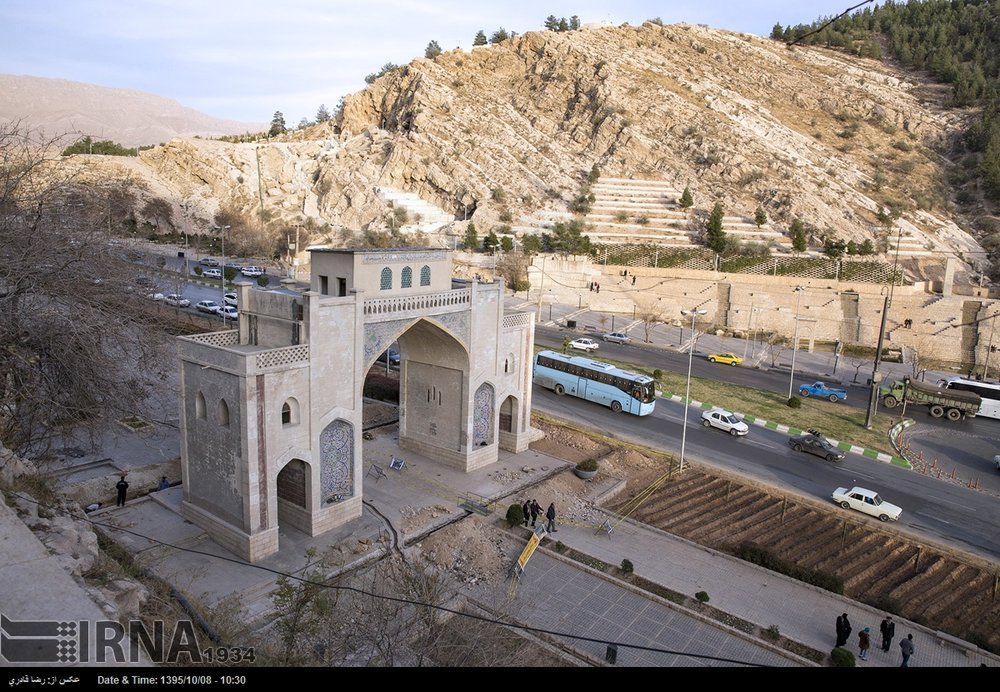 An aerial view of Darvazeh Quran and its surroundings
The gate is adjacent to the upscale Shiraz Hotel and Khajou Kermani Park, a popular hangout for the locals and domestic travelers. Their peaceful atmosphere attracts foreign nationals as well who mainly come for observing locals and their interactions.
Shiraz is home to dozens of magnificent buildings, historical sites and scenic landscapes. It was literally the capital of Persia during the Zand dynasty from 1751 to 1794.
Under tourists' eyes
Here is a select of comments that foreign visitors to the gate have posted to TripAdvisor, one of the most popular travel websites in the world:
'Friendly locals, good view of Shiraz at night'
Qur'an Gate is a structure built on the fringe of Shiraz city, said to bless the people who passed beneath it. On the side of the gate is a park where you could have a bird's eye view of the glittering city at night. (Wei T. from Singapore, reviewed October 2017)
'Not worthy a detour'
If you are in the neighborhood and have a lot of spare time make a quick stop, otherwise scratch it from your list to see other sites. (Wim Antwerp from Brasschaat, Belgium; reviewed October 2017)
'Great place to visit'
We enjoyed visiting this site and were able to take many photos both of the gate, the large Iranian flag, and the surrounding hills. A local guide told us that a large copy of the Quran was once kept on top, and people would walk under the gate as a "blessing".
The Quran is now kept in a nearby museum. We also walked to the top of 1 of the surrounding hills for amazing photos looking out over the city. (Randall K. from Canberra, Australia; reviewed September 2017)
'Wonderful in the early evening'
This was a lovely cool spot to visit in the early evening to watch the sunset and see the view of the city of Shiraz.
The gardens and waterfall were picturesque and peaceful and it was a great plane for people watching. (Jennifer R. from Sydney, Australia, reviewed September 2017)
'Nice place to stroll'
Nice place to stroll, you can see lots of Iranian come here with the family, picnic around the Quran gate. Should go in the evening. (Chee K. from Kuala Lumpur, Malaysia; reviewed April 2017)
AFM/MQ/MG