Shamkhani: Weakening Iran is a 'shattered dream'
January 26, 2018 - 20:34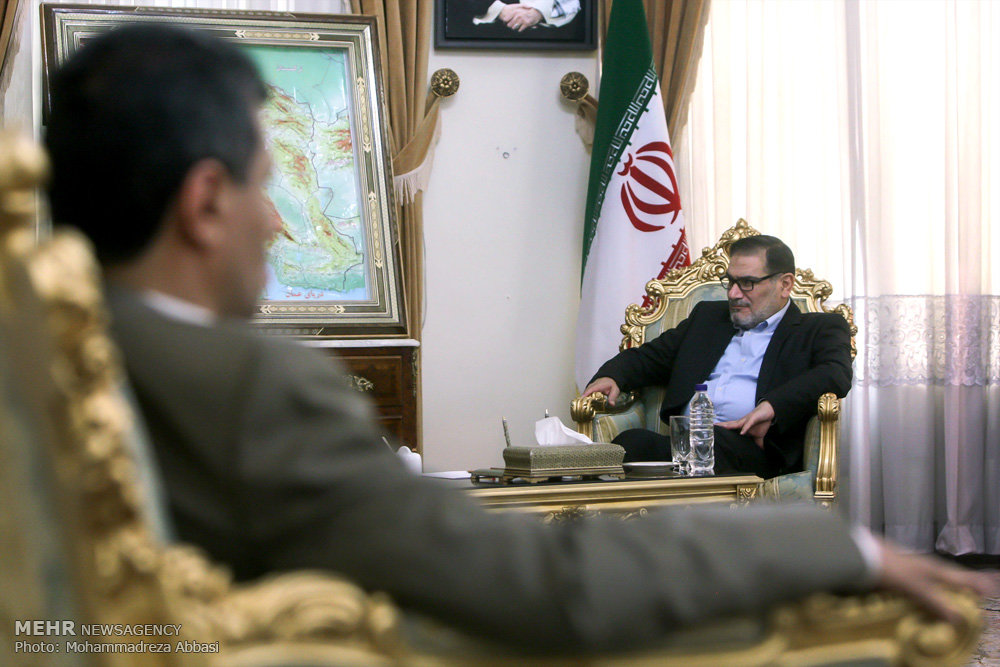 TEHRAN - Secretary of Iran's Supreme National Security Council Ali Shamkhani has said efforts by enemies to weaken Iran or change its ruling system are just a "shattered dream".
"Since the victory of the Islamic revolution, weakening or transforming the Islamic Republic of Iran were some countries' illusion and a dream which has been shattered for several times," IRNA quoted Shamkhani as saying on Thursday in an interview with Al-Alam News Network.
Shamkhani's remarks came in response to certain countries, including Saudi Arabia, which cheered as rallies hit several cities in Iran and misused the situation to vent anger at the Islamic republic.
he noted that Iran's constitution recognizes people's right to hold rallies.
"The Islamic Republic of Iran's constitution considers the people's right to hold gatherings as 'legal and natural' and also considers the people free to express their criticism. In our opinion, [recent] protests were on a natural path to express demands, but some rioters took targeted violent actions and sought to cause insecurity," the top security official explained.
Shamkhani said some regional countries do not recognize the right to protest and are being ruled by a "tribal system" and consider protest and rally as "riot".
The protest rallies in Iran first started in Mashhad on December 28. They spread to some other cities in the country, however, they died down after a week. The protests in certain cities turned violent as vandals joined the protesters.
The protests were mainly motivated by economic problems, corruption, and economic disparity.
'Saudis policies full of strategic mistakes'
Shamkhani also said that the policies having been adopted by Saudi Arabia and the United Arab Emirates are full of "strategic mistakes".
The top security official lamented that the resources of the regional Arab states is being used against each other, indirectly criticizing the Saudi-led war against Yemen. He said this situation has sidelined the issue of Palestine as the main priority of Muslim countries.
"Unfortunately, the wealth of these countries' rulers, their political ignorance and lack of experience have created a situation which has caused division, waste of financial resources, marginalization of the Palestine issue and actions such as support for terrorists and attack on a neighboring country. All these have led to deviation from the main concern of the Islamic world, the Palestine issue, which is an obvious betrayal that will not be forgiven," he explained.
He also said that some Arab states view the UAE as a "small country with glass and fragile government" which makes efforts to prove itself through spending money.
Shamkhani calls Kurds 'strategic friends'
Shamkhani also said that the Iraqi Kurds are Iran's "strategic friends".
There is long history of "friendship and strategic cooperation" between the Iranians and Iraqi Kurds, Shamkhani remarked.
'Iran will not be loser if nuclear deal is dismantled'
Elsewhere, Shamkhani said that Iran will not be loser if the 2015 nuclear deal, officially known as the Joint Comprehensive Plan of Action, is dismantled.
If the U.S. pulls out of the JCPOA and scrap the deal, Iran will immediately take appropriate action and also other countries will avoid holding negotiations with the U.S.
In a statement on January 12, U.S. President Donald Trump said if the text of the nuclear deal is not revised in the next 120 days he would unilaterally withdraw the U.S. from the agreement.
NA/PA