Iranians rally against rioters, foreign meddling
January 5, 2018 - 20:8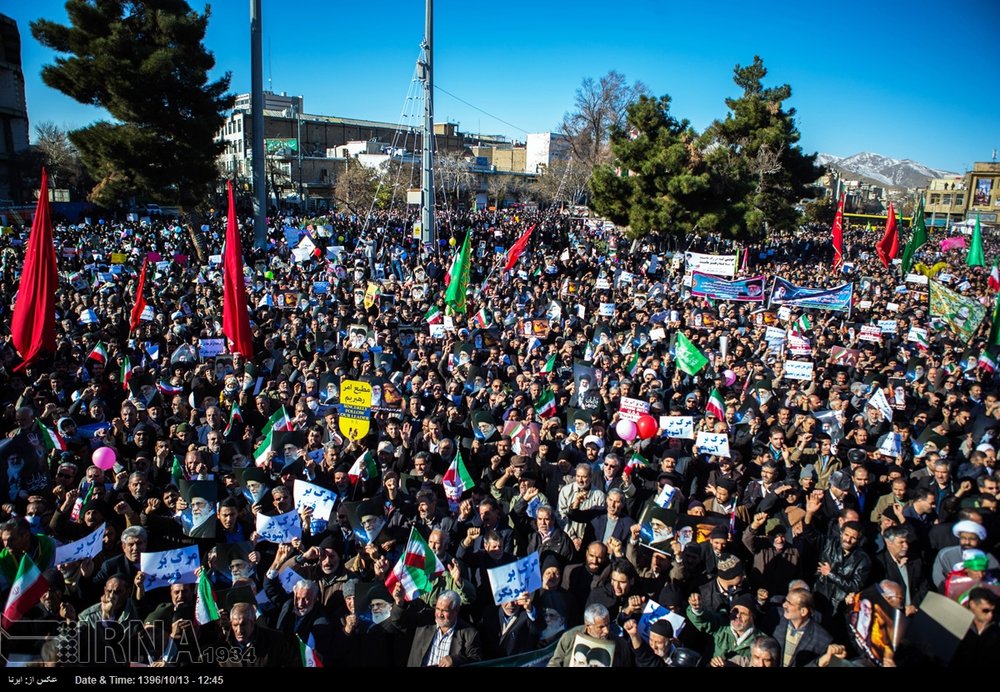 TEHRAN – Iranians held rallies on Friday in several cities to denounce violent protests and plots by the enemies to abuse the peaceful demonstrations in order to harm to the Islamic Republic.
Rallies were held across the capital Tehran, Tabriz, Sari and Kerman.
The demonstrators shouted slogans against the United States and Israel during the rallies.
A number of protest rallies, which first started in Mashhad on 28, spread to other cities in the country with demonstrators complaining about high prices, unemployment and corruption. However, the protests turned violent in some cities, with rioters targeting police stations and religious sites.
According to officials, over 20 people have been killed since the violence erupted.
U.S. President Donald Trump misused the situation to incite more protests in Iran. Some other U.S. officials including Vice President Mike Pence and U.S. Ambassador to the UN Nikki Haley also made remarks to fuel riots.
Tehran Friday Prayer leader Ahmad Khatami said during his sermons that Trump and Israeli Prime Minister Benjamin Netanyahu's voice is "foreigner's voice" and "not the voice of the Iranian nation".
He said that the people's voice should be heard and should not be lost in the commotion.
In an interview with a Lebanese Arabic-language TV channel on Monday, Secretary of the Iranian Supreme National Security Council Ali Shamkhani said that riots in Iran were fueled by "proxy war" against Iran by certain countries including Saudi Arabia.
Turkish President Recep Tayyip Erdogan accused the U.S. and Israel on Friday of meddling in Iran.
"We cannot accept that some countries -- foremost the U.S., Israel -- to interfere in the internal affairs of Iran and Pakistan," Daily Mail quoted Erdogan as telling reporters before heading on a trip to France.
NA/PA