Weapon of mass seduction lands in Tehran
March 4, 2018 - 20:56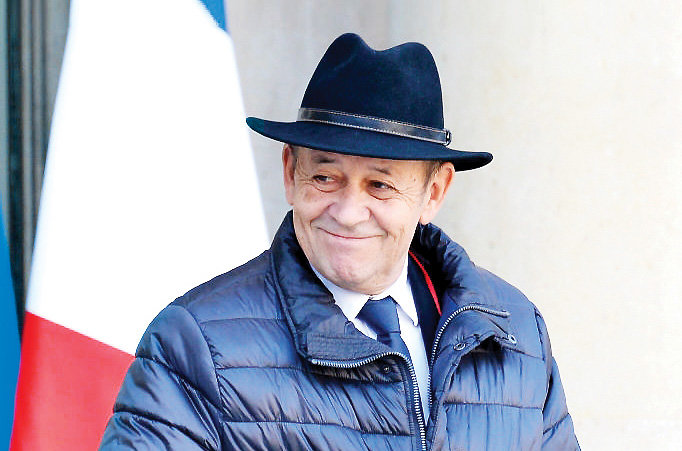 TEHRAN – His people are known for seductiveness, but it would be naive to think it only means in love. In what would naturally pass as a friendly visit to Tehran, which would include opening an exhibition of The Louvre, the French foreign minister has some hard talk to deliver.
A day before he was to fly to Iran, Jean-Yves Le Drian said he believed Iran needs to address Europe's demands over its ballistic missile program or risk new sanctions.
"There are ballistic programs of missiles that can reach several thousand kilometers which are not compatible with UN Security Council resolutions and exceed the sole need of defending Iran's borders," Le Drian told the Journal du Dimanche newspaper.
"If not tackled head on, this country risks new sanctions," he threatened.
Le Drian's country was the hardest to deal with during the tough, years-long nuclear negotiations that led to the Joint Comprehensive Plan of Action (JCPOA) in mid-2015. The final weeks of the agreement were spent trying to convince Paris about the content of the agreement. France, one among five other negotiating countries (the U.S., UK, Germany, Russia, and China) had played along silently up to that time, but now it was time to play its role and mount new pressure on Tehran.
Paris was one of the quickest countries after the implementation of the nuclear deal to raise claim of concern over Iran's ballistic missiles, calling for further restriction on Iran.
Recently France, the UK, and Germany have been reaching to Tehran to what they like to see as helping the country skip new U.S. sanctions by giving in to their demands about its missile program, i.e. choosing between sanctions or a ban on missiles.
U.S. President Donald Trump has expressed dissatisfaction with the JCPOA, urging Europe to put restrictions on Iran's missile program or have Tehran cast out of reach under fresh U.S. sanctions.
Brigadier General Massoud Jazayeri, the deputy chief of the Iranian Armed Forces, on Saturday, expecting Le Drian's visit, said the Islamic Republic will not negotiate on its ballistic missiles until the United States and Europe give up their nuclear weapons and long-range missiles.
General Jazayeri denounced Washington's anti-Iran remarks, saying the Americans' rhetoric about restricting Iran's missile power is only a "wishful thinking".
"The precondition for negotiating Iran's missiles is the destruction of the nuclear weapons and long-range missiles of America and Europe," the top general said.
He said the U.S. is in a weak position in the face of Iran's missile capability, emphasizing that such a power could not have been achieved through talks.
Iran has refused calls for negotiations over its missile program, insisting that its missile program is only for defensive purposes.
But it is not only the Trump administration and European powers which are arranging things for restricting Iran's missile program. Officials of the Obama administration who struck the JCPOA with Iran, which promised a brighter day for Iran, are also tacitly telling Tehran to agree to missile bounds.
On Saturday, Iran's Foreign Ministry confirmed a report that Foreign Minister Mohammad Javad Zarif and former U.S. Secretary of State John Kerry had met privately last month on the sidelines of the Munich Security Conference.
On a piece published on Friday, the New Yorker had said "Kerry quietly urged the Iranians not to abandon the deal or violate its terms, whatever the Trump Administration does."
Zarif and Kerry were leaders of the negotiating teams of Iran and the U.S. respectively.
While Europe takes pride in having concluded the nuclear deal with Iran and hopefully pursuing a fresh deal, Tehran is already questioning the effectiveness of such deals. Iranian officials have said while the JCPOA has already proven of little effect as other parties have failed to keep up in performing their commitments and ensuring Iran enjoys its full benefits, it would not make sense to think of any new agreements.
On February 22, Iran gave an ultimatum that it will withdraw from the nuclear deal if it does not benefit economically from it and if major banks, companies and business entities continue to refuse to do business with Iran due to negative statements by the U.S. president.
"We cannot remain in a deal that has no benefits for us," Deputy Foreign Minister for Political and Legal Affairs Abbas Araghchi told Chatham House in London.
Araghchi, who was one of the main JCPOA negotiators, said Trump is "violating the letter and the spirit" of the deal by creating a "destructive atmosphere".
SP/PA