'Kazakh market apt for Iranian goods, services'
May 19, 2018 - 20:59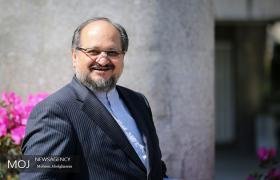 TEHRAN- Kazakhstan seems a proper destination for exports of Iranian goods as well as engineering and technical services, Iranian industry, mining and trade minister announced on the sidelines of Astana Economic Forum (2018) in Kazakhstan.
"Transit capacities besides cooperation on road, railway, and aviation currently exist between Iran and Kazakhstan and the two sides seek expansion of industry, mining, and commercial relations as well," Shata news quoted Minister Mohammad Shariatmadari as saying on Saturday.
Referring to the conducted negotiations between him and the Kazakh prime minister, the Iranian minister added that "we discussed development of mutual ties and more support for visa issuance and the prime minister has made the related required orders to Kazakhstan's embassy in Tehran in this regard."
The three-day Astana Economic Forum (AEF): Global Challenges Summit (2018) was held from Mar 17 to 19. Some 500 leading business people from 24 different countries gathered together in Kazakh capital to provide an updated dialogue platform for the discussion of the most trending global issues.
HJ/MA