WIPO, Iran discuss ways to enhance cooperation
May 22, 2018 - 15:14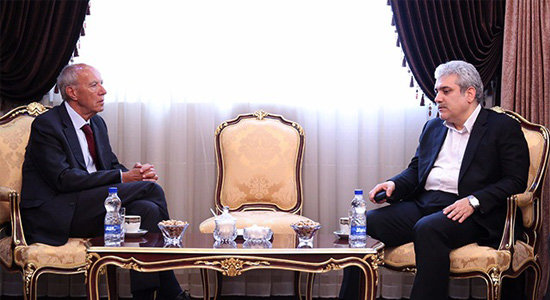 TEHRAN -- Iran and the World Intellectual Property Organization (WIPO) discussed ways to enhance cooperation in the near future.
Iran's vice president for science and technology Sourena Sattari and WIPO Director General Francis Gurry held a meeting in Tehran on Saturday.
Iran's knowledge economy is based on creative human resource who are mostly educated, Sattari said, the vice presidency's website reported.
There are several startups run by young entrepreneurs in different fields including IT and biotechnology, which had a good development during recent years, he said.
The Iranian young inventors achieve rapid growth in international patent register, Sattari added.
He urged WIPO to support Iranians in international process of patent register.
During the meeting, Gurry pointed to Iran's ranking on Global Innovation Index (GII) in 2017, which he said was not proportional to Iran's potentialities.
On Global Innovation Index GII 2017, an annual ranking of countries by their capacity for, and success in, innovation, which is published by WIPO and Cornell University, INSEAD, Iran ranks 75 amongst 127 countries.
He praised Iranian startups saying that Iran do its best in the field of innovation.
Iran needs educated experts for evaluation in the field of patent register to facilitate the process. However, one cannot undermine market demand as an important factor, he said.
Meanwhile, investors are not eager to provide finance for intangible properties and promoting venture capital is very difficult, he said.
Gurry said that the WIPO plans to hold workshops for investors in Iran to get acquainted with opportunities.
WIPO has previously held workshops in Iran. However, it is planned that Iran to host workshops for regional countries in the near future.
WIPO is the global forum for intellectual property services, policy, information and cooperation. It is a self-funding agency of the United Nations, with 191 member states.
It aims to lead the development of a balanced and effective international intellectual property system that enables innovation and creativity for the benefit of all.
SB/MQ/MG