Leader says some conventions are unclear and contain problems
Ayatollah Khamenei: No reason for Iran to join FCT
June 20, 2018 - 14:12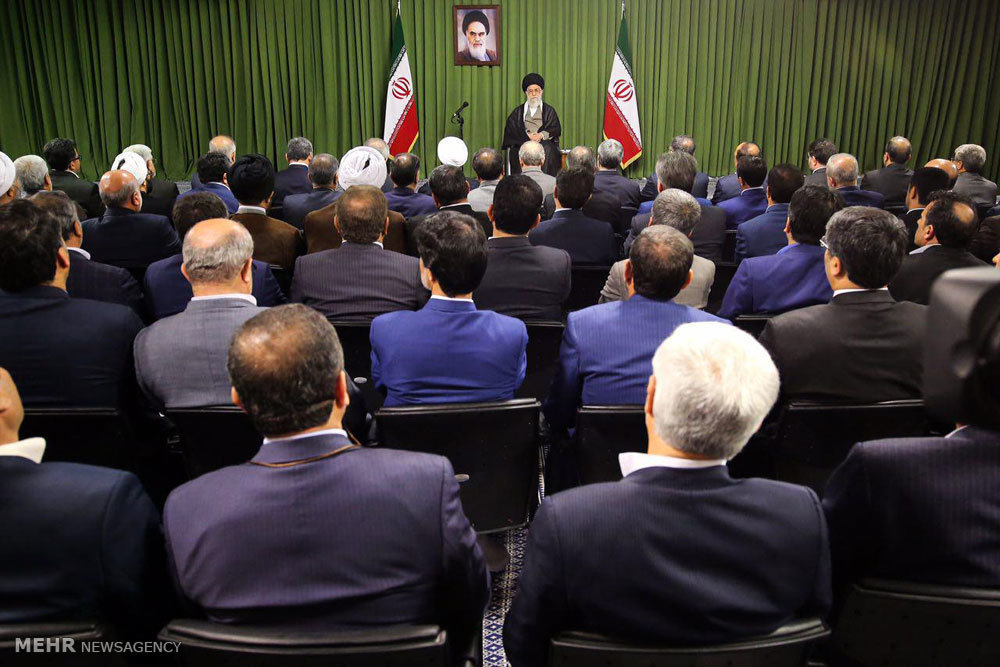 TEHRAN – The Leader of the Islamic Revolution has cast doubt upon the view that jointing the Convention on Combating the Financing of Terrorism (CFT) may go without problems for Iran, calling it unnecessary to join such a convention.
"There is no reason why we should accept for their good points something that we do not know where it leads and even know to contain some problems," Ayatollah Ali Khamenei said in a meeting with parliamentarians on Wednesday.
"Big powers draft such treaties according to their interests and expediency. Then governments which are aligned with them, or fear them, or follow them, ratify these conventions in their own countries."
"Then if an independent country like the Islamic Republic rejects it, they attack it and say why it does not ratify it while 150 countries already have," the Leader said, Fars reported.
He nevertheless underlined that "some of these treaties have positive points… The solution is that the Majlis defines rules of its own. For example a law on fighting money laundering; a law on fighting terrorism."
Iran's parliament on June 10 decided to suspend debates on joining the CFT for two months until negotiations with the European Union on the fate of the 2015 nuclear agreement becomes clear.
The decision came after 50 MPs issued a statement calling for suspending discussion on the bill for two months.
138 out of 253 MPs present in the parliament voted in favor of the proposal and 6 parliamentarians voted against.
Majlis Speaker Ali Larijani told the open session of the parliament then that the administration agreed with the suspension.
Reformist MP Gholamreza Tajgardoon said that the decision would provide the administration with an opportunity to announce to Europe that it should give essential guarantees to preserve the 2015 nuclear deal.
"The administration will have two months to negotiate with Europe," Tajgardoon said.
On May 8, U.S. President Donald Trump officially withdrew from the UN-endorsed nuclear agreement and plans to reimpose sanctions on Iran.
Iran has warned the remaining parties to the nuclear agreement – the European Union, E3 (Germany, France and Britain), Russia and China – that if its interests are not guaranteed it will not remain in the deal.