115 tons of medical waste produced daily in Tehran province
July 2, 2018 - 16:3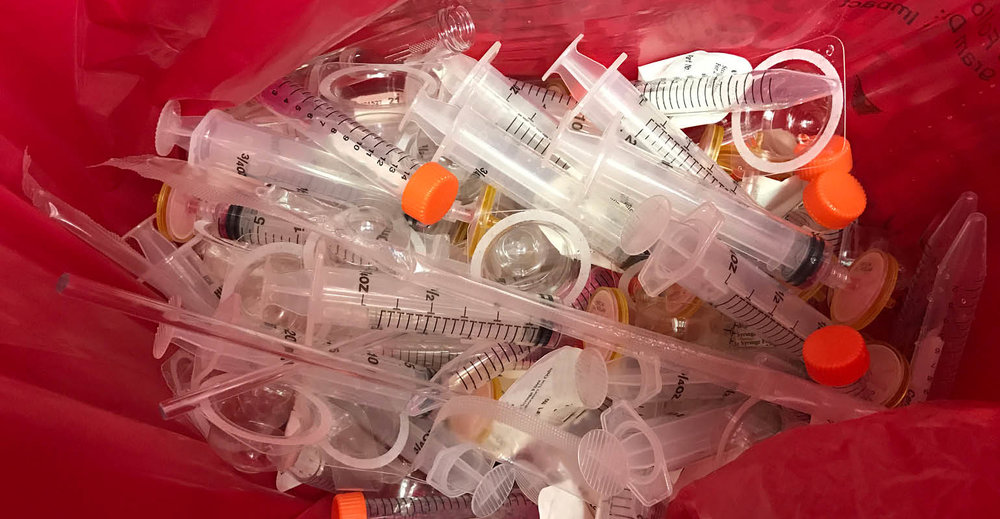 TEHRAN — Some 115 tons of medical waste is being generated on a daily basis in the province of Tehran, head of the waste management working group affiliated to Department of Environment has said.
Medical waste is a subset of wastes produced at health care facilities, such as hospitals, physicians' offices, dental practices, blood banks, and veterinary hospitals or clinics, as well as medical research facilities and laboratories. Generally, medical waste is healthcare waste that that may be contaminated by blood, body fluids or other potentially infectious materials and is often referred to as regulated medical waste.
Kiyoumars Kalantari criticized medical waste management in the province of Tehran saying that not having an exact figure on the amount of medical waste generated in the province is one of the challenges in the sector, Hamshahrionline reported on Saturday.
While the municipality have reported that everyday some 78 tons of medical waste is produced in Tehran the Department of Environment's reports indicated that some 115 tons of medical waste is being produced in the province, Kalantari explained.
Despite the efforts made by the Ministry of Health, except for a few of the hospitals, medical waste is not being regulated in other health-care providing centers, he regretted.
Setting up special landfills for safe collecting, handling, storing, transporting, treating or disposing of medical waste must be high on agenda, he suggested.
Commenting on waste disinfection equipment Kalantari stated that the Department of Environment has not confirmed that the waste is decontaminated using the equipment and that the waste cannot be disposed in landfills with other non-hazardous, general waste.
Councilor Zahra Sadr'azam Noori has also urged the Ministry of Health, as the main responsible body in regulating the medical waste, to follow up on the issue of medical waste more seriously.
Medical waste
Health-care activities are all aimed to restore people's health and save their lives, but there remains a big concern: what happens to the by-products they create?
According to the World Health Organization, of the total amount of waste produced by health-care activities, about 85 percent is general, non-hazardous waste comparable to domestic waste. The remaining 15 percent is considered hazardous material that may be infectious, chemical or radioactive.
Infectious waste, waste which is contaminated with blood and other bodily fluids; pathological waste, including human tissues, organs or fluids, body parts and contaminated animal carcasses; sharps waste such as syringes, needles, disposable scalpels and blades; pharmaceutical waste like expired, unused and contaminated drugs and vaccines; cyctotoxic waste such as cytotoxic drugs used in cancer treatment and their metabolites; and radioactive waste including products contaminated by radionuclides including radioactive diagnostic material or radio-therapeutic materials are types of hazardous medical waste.
On average high-income countries generate up to 0.5 kg of hazardous waste per hospital bed per day, while low-income countries produce 0.2 kg. But the problem normally lies with separating the waste into hazardous and non-hazardous waste in low-income countries which in return increase the quantity of hazardous waste.
Health, environmental impacts
The adverse health outcomes of health-care waste are infecting hospital patients, health workers and the general public and even spread of drug-resistant microorganisms from health facilities into the environment.
The disposal of untreated health care wastes in landfills can result in the contamination of drinking, surface, and ground waters if those landfills are not properly constructed.
Moreover the treatment of health care wastes with chemical disinfectants can result in the release of chemical substances into the environment if those substances are not handled, stored and disposed in an environmentally sound manner.
Incineration of waste has been widely practiced worldwide, however, inadequate incineration or the incineration of unsuitable materials results in the release of pollutants into the air and in the production of ash residue. Incinerated materials containing or treated with chlorine can generate dioxins and furans, which are human carcinogens and have been associated with a range of adverse health effects. Additionally incineration of heavy metals or materials with high metal content (in particular lead, mercury and cadmium) can lead to the spread of toxic metals in the environment.
Methods to respond to medical waste
Responsible bodies should take alternatives to incineration such as autoclaving, microwaving, steam treatment integrated with internal mixing, which minimize the formation and release of chemicals or hazardous emissions, into consideration in settings where there are sufficient resources to operate and maintain such systems and dispose of the treated waste.
Nonetheless, promoting practices to produce decreased volume of waste and ensuring proper waste segregation, raising awareness of the risks related to medical waste, and of safe practices, and also selecting safe and environmentally-friendly management options, to protect people from hazards when collecting, handling, storing, transporting, treating or disposing the waste.
MQ/MG