Isfahan children's film festival announces jury
August 27, 2018 - 19:6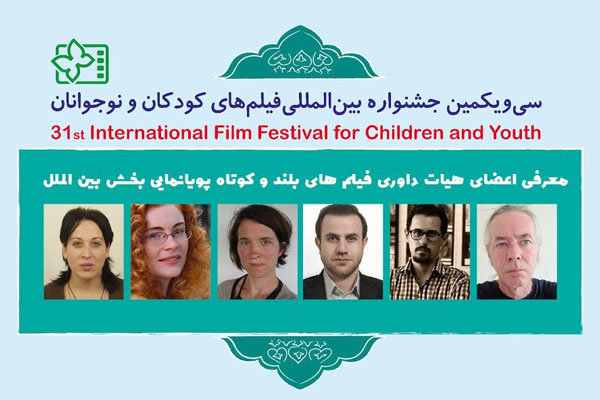 TEHRAN – The 31st International Film Festival for Children and Youth, which will take place in the central Iranian city of Isfahan from August 30 to September 5, has announced the jury for the official competition.
Russian film critic Alena Sycheva, French filmmaker Gilles Lemounaud who is also the artistic director of Festimaj school film festival, German animator Julia Ocker and Georgian director Ketevan Janelidze are the members of the jury, the organizers announced on Monday.
Iranian animators Omid Khoshnazar and Ali Nuri Oskui are also on the panel.
Fifteen films from 14 countries will be screened in the official competition of the event.
Among the film are "The Witch Hunter" by Serbian director Rasko Miljkovic, "The Seen and Unseen" by Kamila Andini from Indonesia, "Home" by Kim Jong-woo from South Korea and "Alone" by David Moreau from France.
The festival plans to honor a number of filmmakers with lifetime achievement awards this year.
The Dalvand animator brothers Kianush, Farzad, Kurosh and Dariush who are famous for movies such as "The Last Messenger" and "Rustam and Sohrab" are among the filmmakers.
Feryal Behzad, the director of acclaimed films such as "Kakoli", "The Valley of Butterflies" and "The Invisible Man", will also receive lifetime achievement award.
The organizers also plan to pay tribute to Nasser Cheshmazar, a prominent Iranian composer who died earlier in May. He collaborated as a composer in over 20 films, including "Hamun" by Dariush Mehrjui, "The Stories of Majid" by Kiumars Purahmad and "Ceasefire" by Tahmineh Milani.
A retrospective of the Japanese director and writer Hayao Miyazaki will also be organized during the event.
Photo: A combination photo shows the jury of 31st International Film Festival for Children and Youth.

MMS/YAW