By staff & agencies
Murder of critic journalist in saudi consulate
October 8, 2018 - 12:25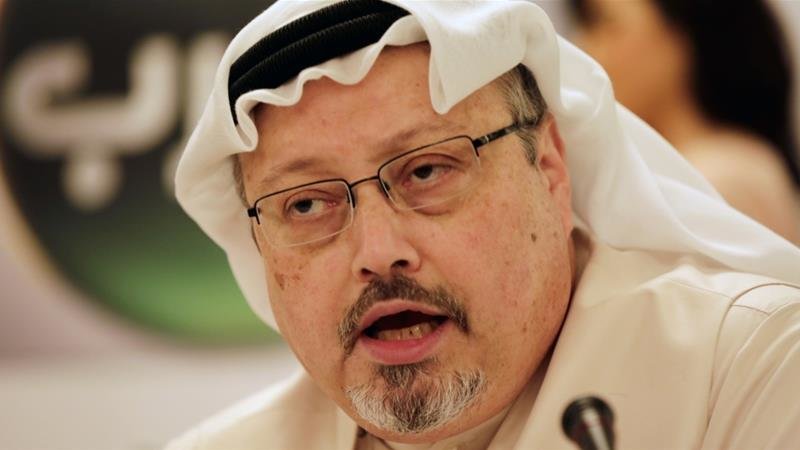 Turkish authorities believe prominent Saudi journalist Jamal Khashoggi, who disappeared four days ago after entering the House of Saud regime's consulate in Istanbul, Turkey has been killed.
"The initial assessment of the Turkish police is that Mr. Khashoggi has been killed at the consulate of Saudi Arabia in Istanbul. We believe that the murder was premeditated and the body was subsequently moved out of the consulate," a Turkish official told Reuters news agency on Saturday.
A Saudi regime source at the consulate denied that Khashoggi had been killed at the mission and said in a statement that the accusations were baseless, Reuters reported.
Turkey's announcement came four days after the leading critic of the House of Saud regime entered the kingdom's consulate in Istanbul on Tuesday to obtain paperwork.
"He went to the consulate four days ago and was then asked to return, which is why the Turkish officials believe it was premeditated and that he was lured in," Al Jazeera's Jamal Elshayyal, reporting from Istanbul, said
Elshayyal added there has not been any disclosure of the whereabouts Khashoggi's body.
"However, we have heard a funeral will take place in the coming two or three days," he said before adding that it was unknown if Khashoggi's body will be present at the funeral.
Khashoggi's fiancée said he was very upset that he had to visit the consulate.
"Before going in, he handed over his phone to me and asked me to call on of Erdogan's [Turkish president] advisors if he doesn't return," Hatice Cengiz told BBC Persian.
Saudi regime officials in Istanbul
Earlier on Saturday, sources told Al Jazeera that a delegation of 15 Saudi regime officials arrived in Turkey the day Khashoggi, 59, disappeared.
"The Saudi officials flew into Istanbul on two different flights on Tuesday," Elshayyal quoted his sources as saying, adding that it was not clear if the Saudi delegation consisted of security or diplomatic officials.
The revelations came as Turkey widened its investigation into the disappearance of the dissident Saudi journalist after the House of Saud regime failed to back its claim that he left the consulate on Tuesday.
In an evening of quick-fire developments, following four days of silence since his disappearance, officials in Ankara pledged to on Sunday release evidence that they say supports claims that the journalist was killed shortly after he entered the consulate to sign divorce papers. The evidence is expected to include video footage and focus on a black car.
Two Turkish officials claimed to Reuters that Khashoggi, 59, had been killed. The Reuters claim was circulated by a government spokesman, and confirmed by numerous other officials, some of whom claimed to have knowledge of how the body had been disposed of. Several officials alleged, without tabling evidence, that Khashoggi had first been tortured.
Officials believe that a team of 15 Saudis arrived on Tuesday to conduct the killing, then left the country soon afterwards.
Turkey's Justice and Development (Adalet ve Kalk?nma Partisi/AKP) ruling party also said it will "uncover" the details surrounding Khashoggi's vanishing, adding that the country's sensitivity on the issue was at the "highest level".
"The condition of the lost journalist, details on him and who is responsible for this will be uncovered," AK Party spokesman Omer Celik told reporters at a party summit chaired by Turkish President Recep Tayyip Erdogan.
"Al Jazeera has also learned in the next day or so video material will be released showing details of the assassination," Elshayyal said.
Erdogan is expected to hold a speech later on Sunday, although it is unclear yet if Erdogan will address the issue, possibly because of behind-the-scenes diplomatic talks.
However, Elshayyal said the incident will most probably lead to a significant diplomatic fallout between the two countries.
"We'll see severe problems arise because if the Turks are able to prove Saudi has killed a journalist who was engaged to a Turkish citizen, who was legally here and who was not wanted for any crime either by Interpol or even the Saudis themselves, it will cause a big diplomatic fallout," he said.
"Obviously it is very challenging for the Turks because they enjoy strong diplomatic relations with the Saudis, which is one of the reasons they did not comment immediately following the disappearance of Khashoggi," Elshayyal added.
Diplomatic row
On Friday, Turkey's foreign ministry summoned the House of Saud regime's ambassador to Ankara over the issue.
Later that day, the Saudi regime Crown Prince Mohammed bin Salman (MBS) said Saudi authorities would allow Turkey to search its consulate.
"We will allow them to enter and search and do whatever they want to do ... we have nothing to hide," MBS told Bloomberg on Friday.
The Saudi regime invited a group of journalists into the Istanbul mission on Saturday, in an effort to show that Khashoggi was not on the premises.
"I would like to confirm that ... Jamal is not at the consulate nor in the Kingdom of Saudi Arabia, and the consulate and the embassy are working to search for him," consul-general Mohammad al-Otaiba told Reuters.
Khashoggi had entered the consulate's premises at around 1pm (10:00 GMT) on Tuesday to secure paperwork in order to marry his Turkish fiancée, identified only as Hatice A.
Hatice said she waited outside after Khashoggi entered the Saudi regime consulate on Tuesday and never re-emerged. Following the initial announcement by Turkish sources of Khashoggi's killing, she tweeted in Arabic her refusal to believe that is the case.
Rights groups had called on the House of Saud regime to verify Khashoggi's whereabouts, with Human Rights Watch (HRW) calling on Turkey to deepen its investigation into the case, saying if Saudi Arabia had detained Khashoggi without acknowledging it, his detention would constitute an enforced disappearance.
Khashoggi's suspected killing may further strain relations between Turkey and the House of Saud regime, who are on opposite sides of the multi-nation blockade of Qatar and other regional crises.
Khashoggi, who had been living in self-imposed exile in the United States for over a year, was one of the best-known critics of the House of Saud regime's reform program under the stewardship of the ambitious and inexperienced Saudi regime Crown Prince Mohammed bin Salman.
Saudi officials said hours after Khashoggi's disappearance that he had left the diplomatic mission. Ankara says there has been no evidence to corroborate the claim.
However, there have been reports in the Arab media suggesting Khashoggi was abducted on the same day of his disappearance and evacuated from the other entrance of the Saudi regime consulate in Istanbul. The Lebanese al-Akhbar newspaper said that the journalist had been flown to Saudi Arabia with the apparent consent of the Turkish intelligence authorities.
The Washington Post newspaper, which featured articles from Khashoggi on its Global Opinions section, published blank pages on its print and website editions on Friday, demanding urgent information about the journalist whereabouts. Human rights campaigners have also demanded that the Saudi regime authorities clarify the issue.
In his writings for the Washington Post, the Saudi commentator had slammed the Saudi regime policies towards Qatar and Canada, the war in Yemen, and a crackdown on dissent and the media in the kingdom.
Jamal Khashoggi
Jamal Ahmad Khashoggi was a Saudi journalist, columnist, author and the former general manager and editor-in-chief of al Arab News Channel. He was internationally respected for his contributions to al Watan for becoming a platform for Saudi progressives.
Khashoggi had been close to the previous Saudi regime, but fled the kingdom a year ago, soon after the new monarch anointed his son, MBS, as prince. He subsequently became an outspoken critic of some aspects of the country's reform program, especially the clampdown on political freedoms, and intolerance of dissent.
He fled Saudi Arabia on 18 September 2017, and has been regularly posting articles critical to his home country.
In December 2016, The Independent, citing a report from Middle East Eye, said Khashoggi had been banned by the Saudi regime authorities from publishing or appearing on television "for criticizing U.S. President-elect Donald Trump".
The Turkish police maintains that Khashoggi had been brutally tortured, murdered and hacked to pieces by a 15-member Saudi death squad sent to Istanbul from Saudi Arabia, who subsequently removed his remains from the consulate.