Hunt meets Zarif as Trump berates UK for ties with Tehran
November 19, 2018 - 20:43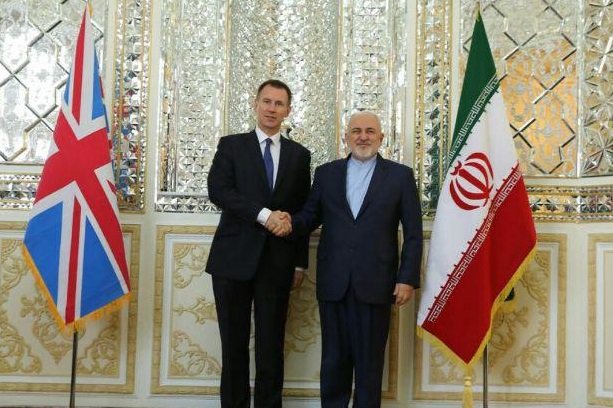 TEHRAN – In what appears to be the UK's turning a cold shoulder to U.S. President Donald Trump, Foreign Secretary Jeremy Hunt on Monday traveled to Tehran for talks with his Iranian counterpart Mohammad Javad Zarif.
Last Friday, Trump lashed out at Prime Minister Theresa May over the UK's Iran ties after she phoned him to congratulate him on the Republican Party's showing in the midterm elections.
According to IRNA, Hunt and Zarif sat down for talks on a special payment system devised by the EU to keep Iran paid for trade as Trump has reimposed sanctions on Tehran in defiance of the 2015 deal, officially called the Joint Comprehensive Plan of Action (JCPOA).
Secretary Hunt is the first Western official of his rank to visit Iran since the United States — formerly a party to the Iran nuclear deal — unilaterally withdrew from the agreement in May.
The Trump administration had been hoping to get the other parties to the deal with Iran to likewise scrap the deal. Instead, they have stressed that not only will they stick to the agreement but that they will also work to sustain it in the face of increased U.S. pressure.
As Trump intensified his sanctions on Iran on November 4, the EU introduced the payment system, known as the Special Purpose Vehicle (SPV), to bypass the sanctions and ensure Iran is compensated for the U.S. withdrawal.
In a statement ahead of his visit to Tehran, Hunt called the nuclear deal "a vital component of stability in the Middle East."
"It (the nuclear deal) needs 100 percent compliance though to survive," the British foreign secretary stressed, according to Reuters. "We will stick to our side of the bargain as long as Iran does."
According to IRNA, the chief Iranian and British diplomats also discussed the ongoing war in Yemen as well as a range of other security issues in the Middle East.
In the meantime, the Guardian reported that Hunt had an agenda to make a personal appeal for the release of the Iranian-British dual-national Nazanin Zaghari-Ratcliffe on humanitarian grounds.
Zaghari-Ratcliffe is in custody in Iran on espionage charges. She was arrested in April 2016 and found guilty of spying and given a five-year jail sentence.
SP/PA