Ivory Coast honors Iranian filmmaker Khosro Sinai
December 22, 2018 - 18:22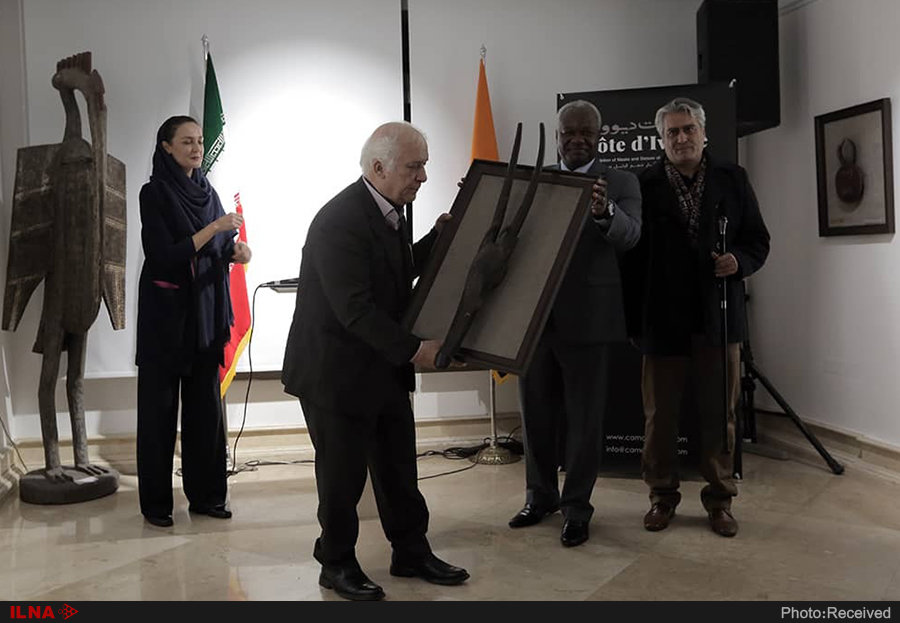 TEHRAN – The Embassy of Ivory Coast honored Iranian filmmaker Khosro Sinai on Friday during the closing ceremony of an art show the country organized at Tehran's Contemporary and Modern Art Gallery – CAMA.
He was honored for the documentary films he has made about Iranian artists such as Jazeh Tabatabai, Farah Osuli, Gizella Varga Sinai and Mohammad-Ebrahim Jafari, who highlight folklore motifs in their works, the Persian service of ILNA reported.
A collection of 30 traditional African masks and 20 sculptures by artists from Ivory Coast were showcased in an exhibition at CAMA Gallery from December 7 to 21.
"Art can bridge the gap between nations and cultures," Sinai said at the ceremony, which was attended by Ivory Coast Ambassador Tamakolo Ouattara.
"This exhibition was one of the most attractive exhibits I have seen over the past few years," he added and noted that the artworks have inspired many artists in the world.
Photo: Iranian filmmaker Khosro Sinai (2nd L) receives an artwork from Ivory Coast Ambassador Tamakolo Ouattara at CAMA Gallery in Tehran on December 21, 2018. (ILNA)
MMS/YAW