By Syed Zafar Mehdi
'Chabahar Port result of healthy cooperation between India, Iran, Afghanistan'
February 26, 2019 - 10:16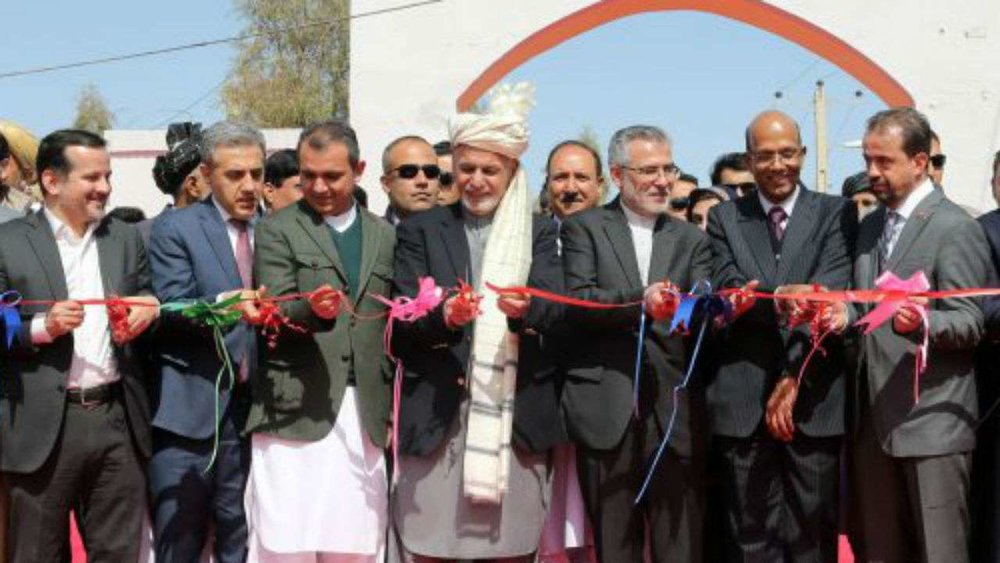 TEHRAN - In a significant development, the landlocked Afghanistan began exports to neighboring India through the strategic port of Chabahar on Sunday.
At the inauguration ceremony of the new export route in Nimruz that would allow the war-ravaged country have access to markets overseas, President Ashraf Ghani said Afghanistan was slowly improving its exports in a bid to reduce its trade deficit.
"Chabahar port is the result of healthy cooperation between India, Iran and Afghanistan this will ensure economic growth," said the beaming Afghan president whose term ends in two months.
During his meeting with provincial council members in Nimruz, President Ghani said an elite unit from country's national directorate of security (NDS) would be deployed to protect the route that leads to Chabahar from Nimruz.
He further said that the government has launched many trade routes and now it was upto the private investors to fulfill its potential.
Earlier, his office in a statement said other countries in the region "should also utilize the economic potential of regional projects and enhance state-to-state cooperation".
At least 23 trucks carrying 57 tonnes of dried fruits, textiles, carpets and mineral products were dispatched from western Afghan city of Zaranj to Chabahar port in Iran's southeastern Sistan-Baluchistan province.
The consignment will be shipped to India's commercial hub Mumbai, according to officials.
It is the first time that Afghanistan is exporting goods through the strategic port and comes less than a fortnight before a deadly attack close to the port that killed at least 27 members of IRGC.
A terrorist group based in Pakistan's border region claimed responsibility for the attack, following which Iran warned Pakistan to act against the terror sanctuaries.
Chabahar Port, inaugurated in 2017, has been built largely by India and will provide a key supply route for Afghanistan while allowing it to bypass Pakistan to trade with Central Asia.
Earlier, Afghanistan, a landlocked country, was overwhelmingly dependent on Pakistani ports to do business with India and other countries.
Afghan officials often accused Pakistan of exploiting Afghan traders and of using the transit route to exert political and diplomatic pressure on Afghanistan.
Pertinently, the relations between Kabul and Islamabad have traditionally been marked by acrimony and hostility while relations between Kabul and New Delhi have constantly blossomed.
Since 2001, when the international community launched its offensive and invaded the country, New Delhi has invested $2 billion into development and reconstruction works in the war-torn country.
India, which has played a key role in making Chabahar Port a successful maritime hub, has sent 1.1 million tonnes of wheat and 2,000 tonnes of lentils to Afghanistan through the port.
In May 2016, India, Iran and Afghanistan agreed to establish a 'Transit and Transport Corridor' among the three countries using the port as a regional hub for sea transportation.
In 2017, Afghanistan and Iran established an air corridor. In February 2018, Iran announced its decision to lease operational control of the port to New Delhi for 18 months.
In December 2018, India's state-owned India Ports Global Limited (IPGL) formally took over operations at the port. In the same month, Cyprus-registered vessel arrived with over 72,000 mega tonnes of corn.
An Iranian official was quoted by IRNA as saying that IPGL had been granted the lease for a temporary period of 18 months and a ten-year period afterwards." IPGL's management, he said, would include "loading and unloading, supplying equipment and marketing."
India is also developing a 500-km-long Chabahar-Zahedan railway link that will connect Afghanistan's Zaranj-Delaram road and bring Iran and Afghanistan close to each other.
Speaking at the inauguration ceremony on Sunday, India's envoy to Kabul Vinay Kumar highlighted the importance of Chabahar Port for "regional integration and strengthening of the Afghan economy".
Social media has been abuzz with Afghans terming it a historic day. "Afghanistan taking another step to decrease dependence on Pakistan," journalist and activist Bashir Ahmad Gwakh tweeted.
His words were seconded by Javid Faisal, former spokesperson of Afghanistan's chief executive Dr. Abdullah Abdullah. "We no longer rely on Pakistan, a country that has never been a trustworthy friend. Neither for peace, nor for trade," he tweeted.
"The second greatest milestone for Afghan reconnectivity after @RouteLapisL is being achieved this year," tweeted Wahidullah Waissi, Afghan envoy to New Zealand.
"Afghanistan is taking baby but important and strong steps towards becoming a regional roundabout," wrote a Twitter user Ahmadullah Archiwal.
Meanwhile, on Tuesday, a much-awaited business event will be held in Chabahar which will see participation of high-level delegations of all three countries – India, Iran and Afghanistan.
The event will showcase business potential of the port and a proposed economic zone, according to reports. India seeks to use the opportunity to woo international shipping liners into the port.