Tehran center to host Tajik cultural festival 
February 26, 2019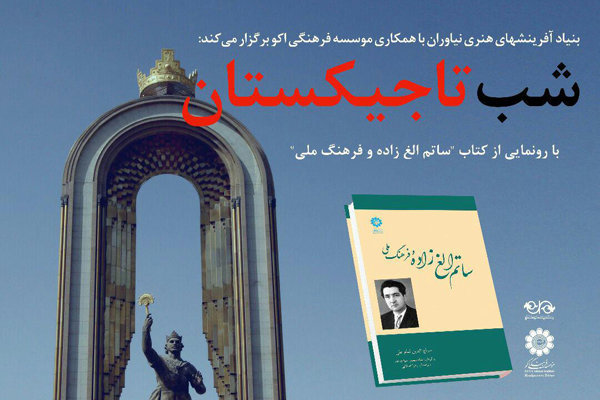 TEHRAN – The Niavaran Artistic Creations Foundation in Tehran will be hosting a Tajik cultural festival on March 3, the foundation announced on Tuesday.
A number of Iranian and Tajik literati are expected to attend the festival titled "Tajikistan Night", which will commemorate Tajik novelist Satim Ulugzada (1911-1977).
A book written by Tajik Professor Sirodjiddini Emomali about Ulugzada is also due to be introduced at the ceremony. Persian scholar Zahra Aslani has done the literary editing of the book.
Ulugzada's biographical novel "Firdavsi" written in 1986 about the Persian poet Ferdowsi, the writer of the epic masterpiece Shahnameh, won Iran's Book of the Year Awards in 1999.
In addition, live music performances and exhibitions of photos of Tajik luminaries and handicrafts will be organized at the festival.
The Cultural Institute of the Economic Cooperation Organization (ECO) and the Embassy of Tajikistan in Tehran are contributing to the festival.
Photo: A poster for the Tajikistan Night, which will be held at the Niavaran Artistic Creations Foundation in Tehran.
RM/MMS/YAW