'Britain eager to expand trade ties with Iran'
March 8, 2019 - 20:34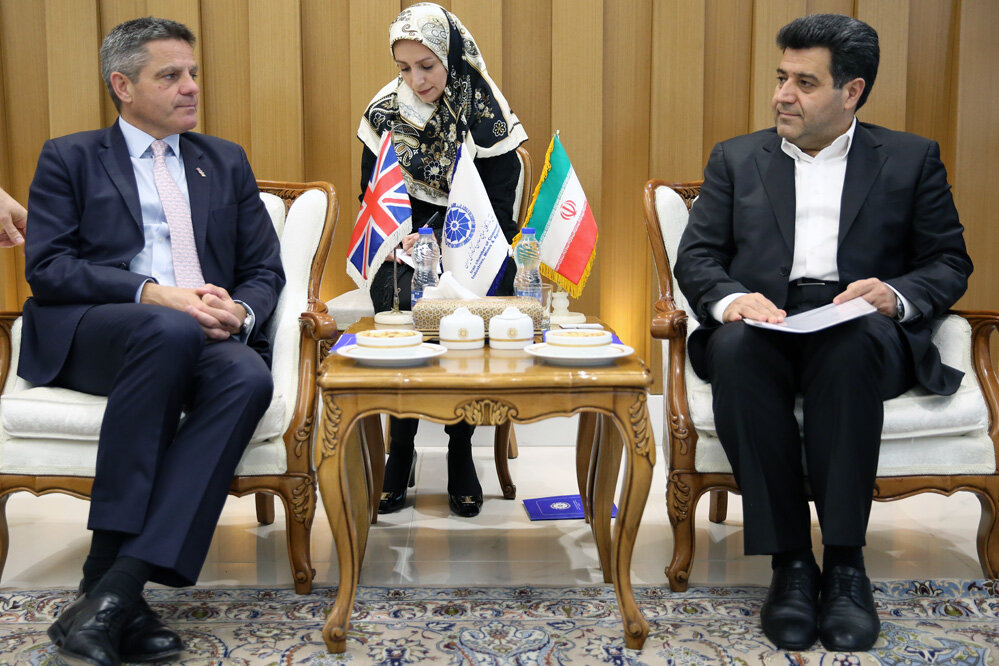 TEHRAN - Senior British trade commissioner, Simon Penney said the British government is attempting to expand its economic relations with Iran, IRIB reported.
The official made the remarks in a meeting with Hossein Selahvarzi, the deputy head of Iran Chamber of Commerce, Industries, Mines and Agriculture (ICCIMA), in Tehran on Wednesday.
The British official further pointed to exports to Iran and importing Iranian products, investment in various areas such as real estate, industry as well as defining terms and conditions for facilitating trade, as axes that the two countries could focus on in order to expand trade.
Penny further mentioned the EU financial mechanism –known as INSTEX – saying, "Europe is eager for trade with Iran and that is the reason the INSTEX was created."
He emphasized communicating with British companies and institutions in order to make them acquainted with the Iranian market as one of his top responsibilities, adding "One way in which you can provide information to people is through exchanging delegates and attending exhibitions."
"A health-related delegation is scheduled to travel to Iran in June and also some British companies which attended the food industry fair held in Dubai were able to meet with Iranian counterparts there. These companies are looking for ways to develop business ties with Iran." He said.
A practical financial mechanism
Salahvarzi for his part mentioned the two countries long history of trade and once again emphasized the need for a practical banking mechanism through which Iranian companies could be able to keep their trade ties with their long-lasting trade partners in Europe.
"As long as the mechanism for financing and transferring funds and in fact the banking and insurance relations between Iran and Europe is not realized, any form of economic relation cannot be planned." The Iranian official said.
Referring to some ambiguities in INSTEX, Salahvarzi said, "Iranian traders are uncertain about the implementation of INSTEX. They do not know if the European private sector which has not played a role in creating this mechanism is willing to use it. Or not."
"There are lots of such ambiguities and questions, that's why a group of major European nations including France, Germany and Britain are working on this issue." said Rob Macaire, the UK ambassador to Iran, in response to what was said by the Iranian official.
EF/MA