Iranian FM says all Astana group members must respect their obligations
Zarif and Assad hold talks on Golan Heights , Syria conflict and Astana dialogue
April 16, 2019 - 20:8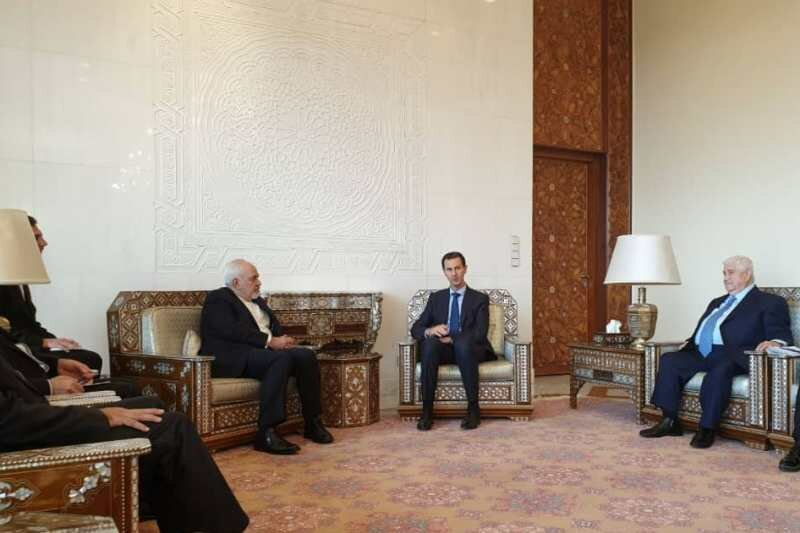 TEHRAN – Iranian Foreign Minister Mohammad Javad Zarif met on Tuesday with Syrian President Bashar al Assad shortly after arriving in Damascus.
Zarif and Assad exchanged views on bilateral ties, the latest regional developments, the Astana peace process and ways to end the Syrian conflict, IRNA reported.
They also discussed the progress made in the bilateral deals signed during President Assad's trip to Iran in late February.
Accompanied by a delegation, Zarif arrived at the Damascus International Airport earlier in the day and was welcomed by Syrian Deputy Foreign Minister Faisal Mekdad.
Upon his arrival, he told reporters that his trip was aimed to coordinate regional efforts to counter Washington's "hostile policies", namely its recognition of the occupied Golan Heights as Israel' territory, the recognition of al-Quds as Israel's capital and its illegal and the unprecedented decision to blacklist Iran's Islamic Revolution Guards Corps (IRGC) as a terrorist organization.
Zarif says, "We are very concerned about Idlib's situation, and certainly, Iran, Turkey and Syria must fulfil their obligations in this regard."
Asked about the situation in Syria's Idlib, Zarif said, "We are very concerned about Idlib's situation, and certainly, Iran, Turkey and Syria must fulfil their obligations in this regard."
"One of these obligations is disarming terrorist groups in this region and pushing them out of Idlib," he said. "The Al Nusra terrorist group is a serious threat for people of Idlib and people of this region's surroundings."
"We, the member states of Astana [peace process] are obligated to fulfil our commitments with this regard and I will follow up on this issue in my trip to Turkey," he added.
The foreign minister also met his Syrian counterpart Walid Muallem.
"The Syrian people saved the region from a serious danger through their resistance against Takfiri and terrorist groups," Zarif said at the meeting.
He emphasized the need to push all terrorists out of Syria and called on the world to respect Syria's sovereignty and territorial integrity.
"We are absolutely delighted that we were beside the people of Syria, Iraq and the region in the fight against such serious danger against the people of the region and the world," Zarif noted.
For his part, Muallem said it is necessary to continue and deepen such cooperation. "The gained victory is a common victory because the two countries are on the same front."
Zarif's visit to Syria comes almost two months after Assad's unannounced visit to Tehran, during which he met Leader of the Islamic Revolution Ayatollah Ali Khamenei and President Hassan Rouhani, with Zarif absent at the meetings.
Shortly after Assad's meetings in Tehran, Zarif announced his resignation in an Instagram post. His not knowing about the visit was speculated as being the reason.
Two days later, however, President Rouhani rejected Zarif's resignation, saying it was contrary to the country's interests. On the same day, Assad officially invited the Iranian foreign minister to visit Syria. Zarif later announced that he will visit Syria "soon".
MH/PA