Armenia's top security official to visit Iran
April 7, 2023 - 23:16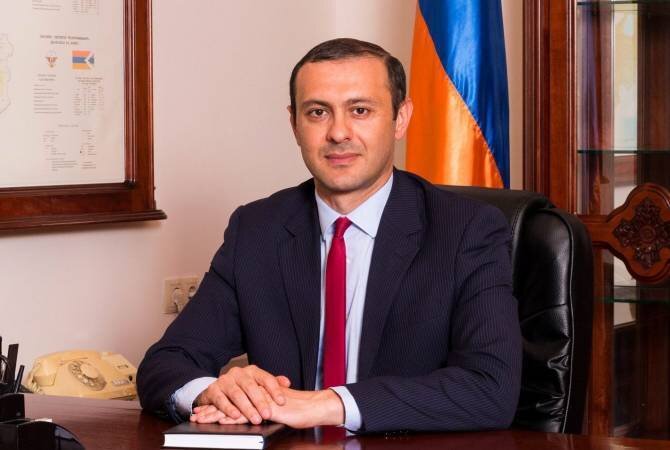 TEHRAN – The Secretary of Armenia's Security Council, Armen Grigoryan, will pay a visit to Iran on Sunday to meet his Iranian counterpart.
"On April 9, the Secretary of the Security Council, Armen Grigoryan, will be in Tehran on a working visit," the Security Council of Armenia said in short statement on Friday.
According to the statement, "He will meet with Ali Shamkhani, Secretary of the Supreme National Security Council of the Islamic Republic of Iran."
The visit comes after Iranian Deputy Foreign Minister for Political Affairs Ali Bagheri Kani paid a visit to Yerevan amid rising tensions in the South Caucasus region. Bagheri Kani's visit was done at the invitation of his Armenian counterpart.
Iran has recently appointed a seasoned diplomat as its new ambassador to Armenia. The public relations office of the Iranian Foreign Ministry said Iran's Ambassador to Syria Mehdi Sobhani will be dispatched to Yerevan, as Iran's new envoy, after serving in the Middle Eastern country.
Sobhani is a seasoned diplomat, according to the Iranian foreign ministry.
Tensions have been on the rise in the South Caucasus region over a range of issues including military frictions between Yerevan and Baku. Also, Azerbaijan's decision to open an embassy in Tel Aviv has exacerbated tensions between Tehran and Baku. In addition, in recent days, the Republic of Azerbaijan has taken a set of measures that heightened tensions with Iran. In its latest move, Azerbaijan declared four Iranian diplomats in Baku as persona non grata.
Earlier, Iranian Foreign Ministry spokesman Nasser Kanaani demanded explanations from Azerbaijan regarding remarks by Israel's foreign minister that Tel Aviv and Baku have formed a united front with Azerbaijan against Iran.
Kanaani described the remarks as yet another piece of evidence proving the Zionist regime's evil intentions to turn the Republic of Azerbaijan's territory into a threat against the national security of Iran. He strongly condemned the statements, according to a statement by the Iranian foreign ministry.
Kanaani described the statements of the Zionist regime's foreign minister regarding the formation of a "united anti-Iranian front," as well as the statements of the Foreign Minister of Azerbaijan regarding the content of the talks and a "new stage of strategic partnership" between Azerbaijan and the Zionist regime as an implicit approval of the anti-Iran orientation of their cooperation, demanding an explanation from the Azeri authorities in this regard.
Emphasizing the unbreakable historical and religious bonds between the people of Iran and Azerbaijan, he added that Iran has always tried to thwart the attempts of ill-wishers to divide the two neighboring countries, and that the government of Azerbaijan is also expected to avoid the trap that the enemies of relations between the two countries have set.