Iran promises to bolster Syrian army resistance axis against Israel
May 12, 2023 - 23:5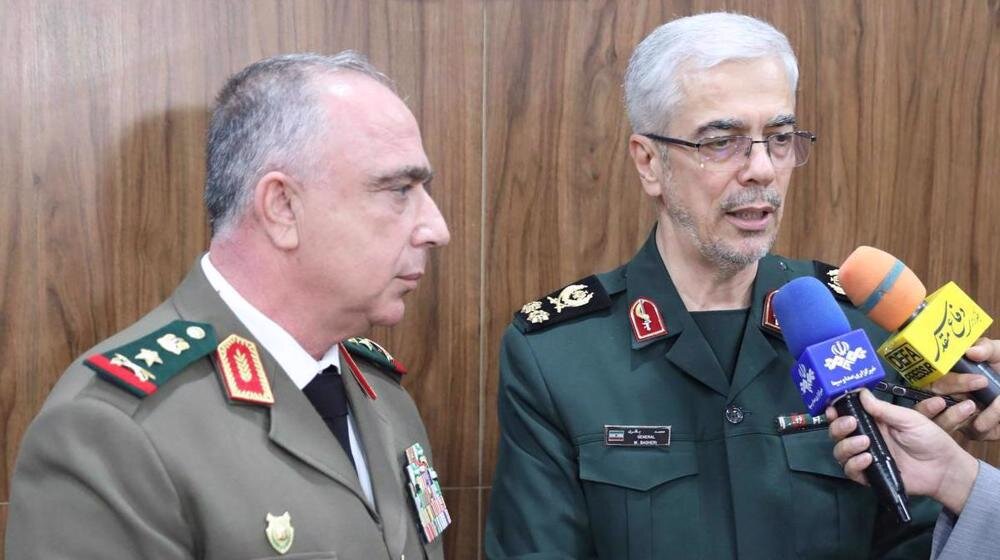 TEHRAN- A senior Iranian general declared that the Islamic Republic will support Syria in its fight against the Israeli regime by bolstering the Syrian army.
The general, Mohammad Baqeri, who is the Chairman of the Chiefs of Staff of the Iranian Armed Forces, made the comments on Wednesday in Tehran in a meeting with the visiting Chief of the General Staff of the Syrian Army and Armed Forces, General Abdul Karim Mahmoud Ibrahim.
Calling the Syrian army "the important anti-Zionist resistance axis" in the region, he noted that "we will reinforce this axis in cooperation with each other, and will stand up together to the Zionist regime's bullying."
He said that the topic of providing training to the Syrian army at various levels was discussed during his conversation with his Syrian counterpart.
The military authorities also discussed "rebuilding the Syrian army in the post-war period" and "transferring Iran's experience in the military field to the Syrian armed forces."
Baqeri applauded the Syrian military's counterterrorism operations for contributing to the establishment of adequate security throughout the Arab nation.
"I hope that Syria's rehabilitation era will begin soon," he added.
Syria was engulfed in a wave of foreign-backed militancy and terrorism in 2011.
The terrorist groups quickly overran vast areas of Syrian country, with essential help from the Israeli regime.
The regime would regularly strike Syria's defenses while simultaneously providing a safe haven for terrorists in the Arab country's Golan Heights, which has been occupied by Tel Aviv since 1967.
In an effort to reverse the gains made by the terrorist groups, Damascus turned to its friends, particularly Iran.
Tehran, then, started providing vital military advisory assistance for Syria's anti-terror efforts.
The Syrian official, for his part, suggested that Tehran and Damascus "cooperate with each other towards accelerating cessation of the domination of imperialist countries."
"We have long valued our cooperation with the Islamic Republic and will keep doing so in accordance with the interests of the two countries," Ibrahim added.
"Iran willing to assist Syria in building up defensive capabilities"
According to the defense minister of Iran, Tehran is prepared to help Syria in the post-conflict period with its reconstruction efforts and the growth of its defense infrastructure.
Brigadier General Mohammad Reza Ashtiani made the comments on Wednesday at a meeting with General Abdul Karim Mahmoud Ibrahim in Tehran.
He also emphasized the importance of holding a working group for defense-technical cooperation with Syria.
The Iranian defense minister highlighted that the strategic and, more crucially, fraternal accord between Tehran and Damascus is the reason why ties of both countries are at their best.
Ibrahim, for his part, was grateful for the unwavering support the Leader of the Islamic Revolution Ayatollah Seyed Ali Khamenei and the Iranian government and people showed for Syria.
The Syrian general demanded that Iran and Syria strengthen their connections in all areas, particularly in the military and defense industries.