By staff and agency
U.S. envoy to UN: It is wise for Trump to uphold JCPOA
January 14, 2017 - 19:50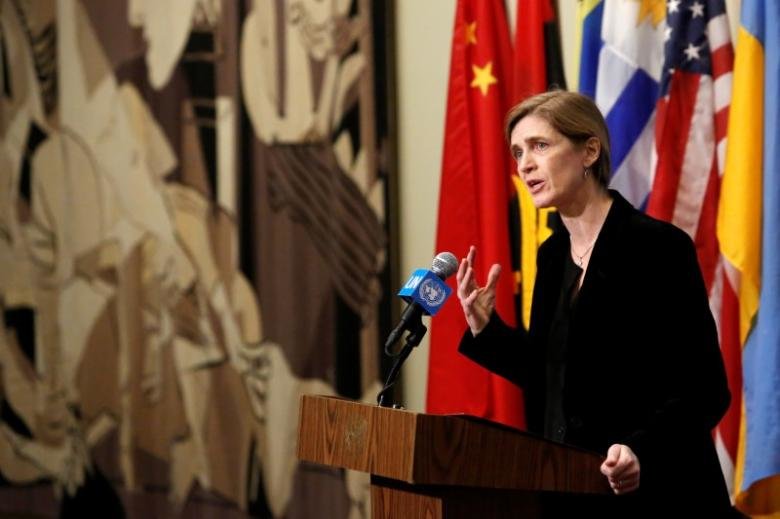 U.S. Ambassador to the UN Samantha Power said on Friday that it would be wise for U.S. President-elect Donald Trump to uphold the Joint Comprehensive Plan of Action, the official name for the nuclear deal.
The deal between Iran and key world powers on Tehran's nuclear program is working, Reuters reported her as saying.
Iran and the 5+1 group (the U.S., Britain, France, China, Russia and Germany) finalized the text of the JCPOA in Vienna on July 14, 2015.
On July 20, 2015 the UN Security Council turned the JCPOA into international law by endorsing a resolution, setting the stage for the lifting of the Security Council sanctions against Iran.
The nuclear agreement took effect in January 2016.
In a speech in March to a conference of the American Israel Public Affairs Committee (AIPAC) in Washington Trump said his "number one priority is to dismantle the disastrous deal with Iran". However, he later backed down from his rhetoric saying it was difficult to violate a deal which has been approved by the UN Security Council.
After U.S. Secretary of State nominee Rex Tillerson said he feels there should be a "full review" of the nuclear deal a top Iranian diplomat said Tehran will not allow reigniting the debate over its nuclear program.
The BARJAM (Persian acronym for the deal) dossier won't reopen, and we won't allow this to happen," Majid Takhtravanchi, top nuclear negotiator and deputy foreign minister for European and American affairs, said on Friday.
EU foreign policy chief Federica Mogherini said on November 9 that the JCPOA is a "multilateral agreement" and that she is tasked to guarantee its full implementation.
EU foreign ministers also issued a statement on November 14 reiterating the 28-nation bloc's "resolute" commitment to the implementation of the nuclear agreement.
In a New Year message Mogherini also renewed the EU support for the international deal.
"It is diplomacy that creates new opportunities for our economies, for our citizens, for our region's security. We bring with us in the New Year our determination to preserve this method. And to
preserve an historic deal, serving everyone's security," Mogherini said in a post published on her website.
"During the negotiations with Iran, we were often told: you'll never make it," she said. "After we signed the nuclear deal, last year, the sceptics said: it's never going to work."
The EU foreign policy chief went on to say that the nuclear deal has worked against all those predictions.
Mogherini also said the 5+1 group and Iran gathered in January 2016 and certified for the first time that all sides had implemented the agreement of July 2015.
"Since then, we have kept meeting regularly – the European Union, which continues to guarantee the agreement, with Iran, the United States, Russia, China, Britain, Germany, France and in constant
cooperation with the International Atomic Energy Agency – to verify the respect of everyone's commitments," she said.
NA/PA