Missile test not intended as a message to the Trump administration
Iran: Trump's missile remarks 'unfriendly' yet 'expected' 
February 6, 2017 - 19:36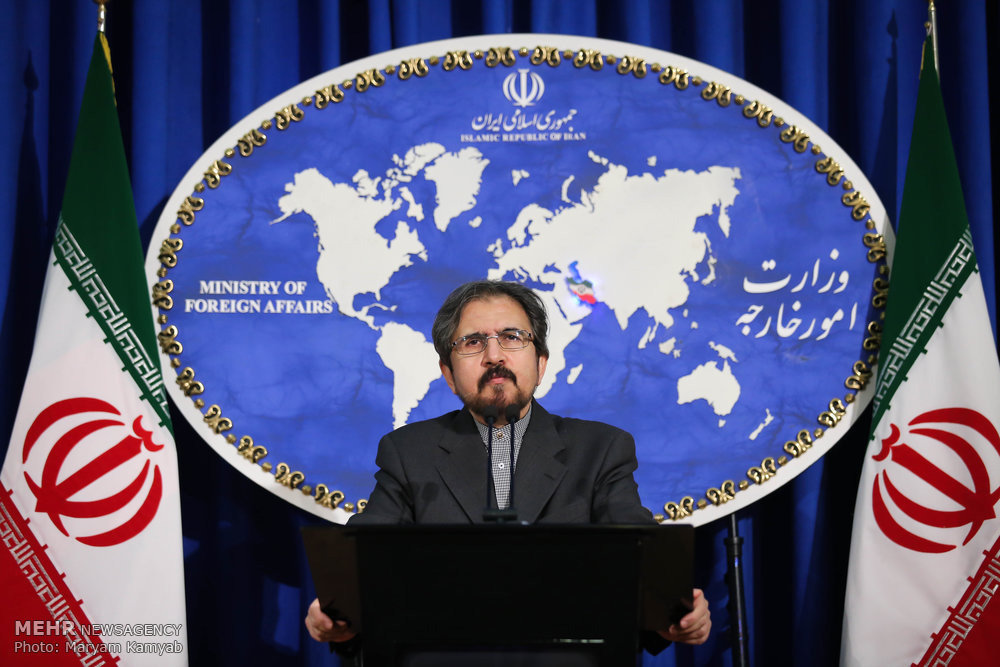 TEHRAN – Iran said on Monday that Washington's recent stance on the country's missile program is "unfriendly, hostile, and even threatening," although the antagonism was already expected. 
"Recent remarks by the U.S. administration are unfriendly, hostile, and event threatening," said Foreign Ministry spokesman Bahram Qassemi on Monday in reply to the Tehran Times question in a regular press conference.
"We have got used to hearing such remarks from different U.S. administrations for more than three decades now," he added.
Iran and U.S. have had no relation since the 1979 revolution after Ayatollah Ruhollah Khomeini ended the Western-backed monarchy of Shah Mohammad Reza Pahlavi.
The spokesman also ruled out that Tehran was using the January 29 missile test as a tool to "signal any message" to the incumbent U.S. government.
"Our missile tests are in line with our national interests, and conducted on the basis of a schedule," he explained.
Since taking office, U.S. President Donald Trump's administration has heightened a hostile rhetoric towards Iran, making the Middle East powerhouse a sensitive, key element of its foreign policy.
The administration's first meaningful foray into Iran policy came after Fox News, quoting a U.S. defense official, reported that Iran had conducted a medium-range missile last week. Days after that the Iranian defense ministry confirmed the testing.
The U.S. official, however, said the missile launch posed no threat to the U.S. or its allies in the region.
While Washington says it flies in the face of a United Nations Security Council resolution that endorses a 2015 international deal with Iran, Tehran maintains its missiles are conventional weapons, not capable of carrying nuclear warheads.
Resolution 2231 calls upon Iran "not to undertake any activity related to ballistic missiles designed to be capable of delivering nuclear weapons, including launches using such ballistic missile technology," until eight years after the implementation of the deal.
An extraordinary Security Council's session called on by Washington on the issue bore no fruit.
It has sparked a diplomatic spat between the two sides.
Trump tweeted on Thursday that Iran had "formally" been put "on notice" over its missile program while his team was looking into the launch, warning Tehran against "playing with fire" in another tweet on Friday.
On Friday, Washington levied a ban on banking transfers against 25 Iranians and companies that it said assisted in Tehran's ballistic missile program.
The "clueless" president also went on to renew the hackneyed "nothing's off the table" rhetoric, fulminating against what he called a "kind" approach toward Iran, a veiled reference to a 2015 international nuclear deal between Iran and six world powers.
The Obama administration hailed the accord a signature foreign policy achievement.
Replying to the comments in a joint press conference with his French counterpart Jean-Marc Ayrault, Iran's Foreign Minister Mohammad Javad Zarif emphasized that Tehran's missile program is for defense only and won't be used against any country.
Iran uses its "conventional" missiles to "legitimately" defend its territory, the top diplomat maintained, expressing hope it will not be utilized as a "pretext" for the new U.S. administration.
Also, Ali Akbar Velayati, a veteran politician, blasted "Trump's extremism", reducing his anti-Iran comments to "baseless ranting."
Trump's comments drew the strongest backlash from military officials.

Brigadier General Amir Ali Hajizadeh, head of Revolutionary Guards' aerospace unit, vowed "roaring missiles," if Iran threatened.
"If we see smallest misstep from the enemies, our roaring missiles will fall on their heads."
AK/PA