All sides obliged to respect nuclear deal: EU's Helga Schmid
November 21, 2017 - 22:14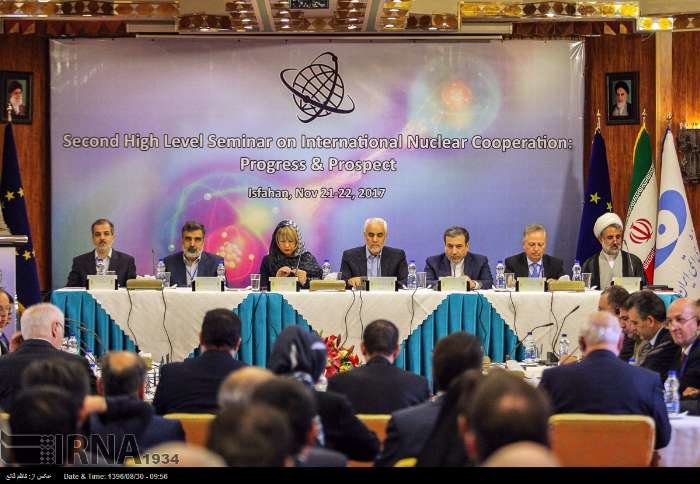 TEHRAN - Helga Schmid, the European Union's deputy political director, said on Tuesday that the 2015 nuclear deal is not renegotiable and all signatories are obliged to respect it.
"I say on behalf of Federica Mogherini [the EU's foreign policy chief] very clearly that it is not possible to renegotiate the JCPOA [the official name for the nuclear agreement] and all sides are obliged to respect the JCPOA," ISNA quoted her as telling the Second High Level Seminar on International Nuclear Cooperation: Progress and Prospect in Isfahan.
She noted that the 28-nation EU supports the nuclear deal.
The Islamic Republic of Iran and the European Union held their third round of high level talks in Tehran on Monday. Iranian Deputy Foreign Minister for Legal and International Affairs Abbas Araqchi and Schmid headed the meeting.
Iranian Foreign Minister Mohammad Javad Zarif also met with Schmid on Monday. According to Press TV, during the meeting, the two sides exchanged views about the implementation of the nuclear agreement and the political developments in regional countries, including Syria, Yemen, Qatar and Lebanon.
'Iran conditions compliance to JCPOA'
The United States under the Donald Trump administration is the only party which has made repeated attacks against the nuclear deal. In his new Iran strategy declared on October 13, President Trump decertified the nuclear deal and asked Congress to decide about the fate of the agreement.
Congress now has to decide whether to reimpose economic sanctions on Tehran that were lifted under the deal. Trump said if Congress does nothing he himself will terminate the deal.
Behrouz Kamalvandi, the spokesman for the Atomic Energy Organization of Iran, reiterated Tehran's position that the Islamic Republic's compliance to the JCPOA depends on other sides' commitment to the agreement.
Talking to reports in Isfahan after the seminar, Kamalvandi said the JCPOA is an international agreement that cannot be changed by one country.
He urged the U.S. administration to review its policy toward the agreement.
The nuclear agreement was signed by Iran, the European Union, Germany and the five permanent members of the UN Security Council - the United States, Britain, France, China and Russia in July 2015. The JCPOA took effect in January 2016.
The EU has repeatedly expressed support for the nuclear deal. Mogherini said on November 10 that the 28-nation European bloc will make sure that the nuclear deal "will continue to be fully implemented by all, in all its parts".
'Iran, EU have good relations'
The Iranian deputy foreign minister said in the seminar that Iran and the EU have good relations in various areas.
He also praised the EU's support for the JCPOA.
Since the conclusion of the nuclear deal Tehran and Brussels have taken important steps for cooperation in areas of energy, environment, agriculture, trade, etc.
NA/PA