IAEA report proves U.S. claims wrong: Iran
November 14, 2017 - 20:7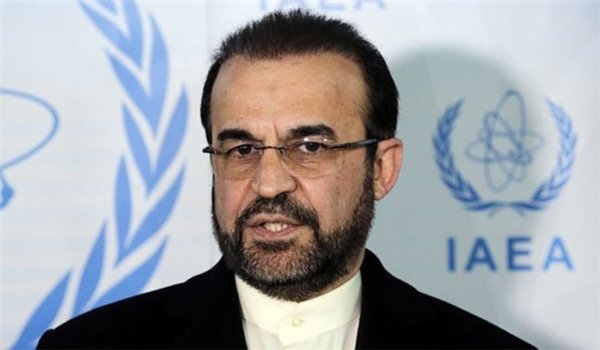 TEHRAN - The new report by the International Atomic Energy Agency which once again confirms Iran's compliance to the 2015 nuclear deal proves the U.S. claims against Iran are "wrong", Tehran's ambassador to the IAEA said on Monday.
"New report of the agency which is the 9th one since implementation of the JCPOA and 8th one to the Board of Governors on verification of implementing the JCPOA, once again confirms, contrary to the U.S. claims, that Iran's nuclear activities totally conform to the JCPOA," Reza Najafi said in a statement.
Najafi also said that Iran and all the members to the IAEA expect the UN nuclear body to keep verifying implementation of the JCPOA "professionally" and "neutrally".
According to Reuters, the UN atomic watchdog said on Monday in its first report since U.S. President Donald Trump decertified Iranian compliance with the terms that Iran has remained within the main limits on its nuclear activity set by the nuclear deal.
In his new Iran strategy declared on October 13, Trump decertified the nuclear deal and asked Congress to decide about the fate of the agreement despite eight reports by the IAEA which confirmed Tehran's compliance.
Congress now has to decide whether to reimpose economic sanctions on Tehran that were lifted under the deal. Trump said if Congress does nothing he himself will terminate the deal.
The nuclear deal, known as the Joint Comprehensive Plan of Action, was signed by Iran, the European Union, Germany and the five permanent members of the UN Security Council - the United States, Britain, France, China and Russia in July 2015. The agreement went into effect in January 2016.
NA/PA