IRGC missile facilities immune to possible attacks: general
February 4, 2018 - 20:2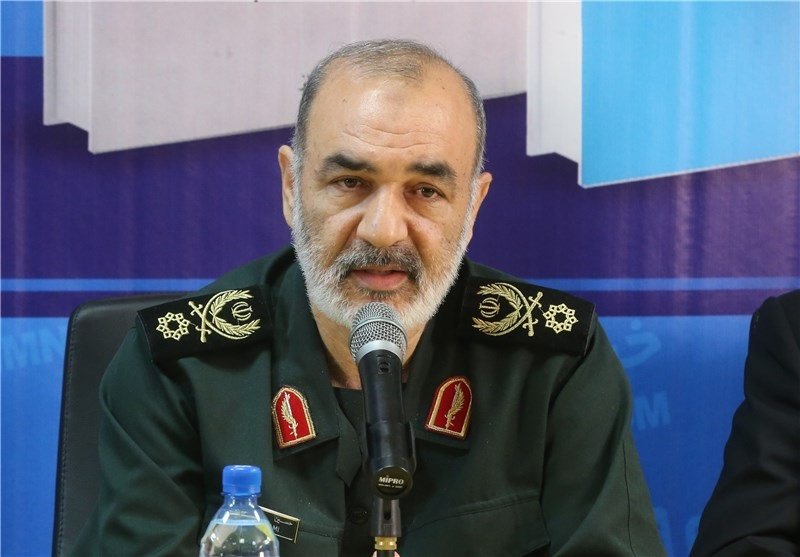 TEHRAN – The underground missile facilities of the Islamic Revolution Guards Corps (IRGC) are immune to all sorts of hostile attacks, says Hossein Salami, the IRGC's second-in-command.
In comments at a television talk show on Saturday, General Salami said that not all projectiles are stockpiled inside the missile facilities, Tasnim reported.
Salami said there are lots of missile facilities in the country, which are very safe from possible attacks, including conventional and unconventional ones.
The IRGC missiles, he said, are not stored in those facilities alone, but numerous missiles of various types could be fired at once from various places, given the type of threats.
The commander stressed that Iran's missile power is only a portion of its defense capabilities, pointing to the major advances that the country has made in drone industry.
He further said that the IRGC has detailed information about the U.S. military capabilities and bases in the region, stressing that Iran considers the regional countries as being within the range of its strategic security.
Elsewhere in his remarks, Salami drew a comparison to the current defense system of the country to that of the pre-1979 Islamic Revolution, saying, "The place the Islamic establishment has in the international arena and the level of its independence determine the situation of its defense system."
"[Before the revolution], all our [military] equipment, such as artillery, tanks, anti-tank missiles, naval and airborne power, were purchased from Western and American powers, and we were only consumer of their products in our country. Billions of dollars were paid for equipment coming from Western countries and the United States, and we were just a consumer of their products," he explained.
Iran has repeatedly said that its military power, especially its missile technology, is key components of its deterrent power and does not pose a threat to other countries.
MH/PA