Iran to expand knowledge-based market in Uganda, Kenya
October 6, 2018 - 10:23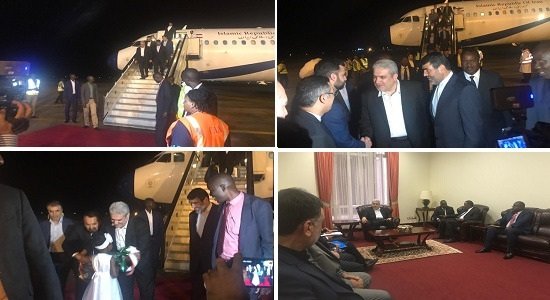 TEHRAN -- Iran's vice president for science and technology, Sourena Sattari, headed on Wednesday a delegation to Kenya and Uganda in order to boost the market of Iranian knowledge-based companies in eastern Africa.
Representatives from the ministries of health; foreign affairs; and science; Trade Promotion Organization; Export Development Bank; and directors of 45 knowledge-based companies accompanied Sattari during his trip.
The delegation was composed of knowledge-based companies active in different fields including health, herbal medicine, pharmacology, ICT, chemical industry and hi-tech industrial machineries.
Iran, Uganda to boost ties
During his meeting with the Uganda President Yoweri Museveni in Kampala on Wednesday, Sattari stressed the importance of boosting cooperation between the two countries in the field of science and technology.
"Iran is mostly known for its oil resources, however, the country boasts of professional human sources, who can boost scientific development of the country," he said.
Iran is proud of different renowned companies in the field of biotechnology, nanotechnology, information and communication technology in the Middle East, he explained.
At the meeting, President Museveni called Iran as an influential country in the region, which has impressive activities despite sanctions imposed on the country.
Sattari also paid visit to the Uganda Minister of Science, Technology and Innovation Elioda Tumwesigye during his sojourn.
The sustainable economy is the result of technology ecosystem in the countries, Sattari said during his visit.
"In Iran, we do our best to avoid oil-based economy and the Iranian professionals have succeeded during recent years," he announced.
Iran, Kenya agree on knowledge exchange
Sattari paid visit to t Kenya Investment Authority (KenInvest) Managing Director Moses Ikiara during his sojourn in Nairobi on Thursday.
"We should provide infrastructure for further cooperation between companies and financial institutions in two countries in order to facilitate exchange of technological products, services and knowledge," Sattari said.
Sattari stressed on the importance of financial transparency between two countries in order to have technological exchange.
Obtaining a joint line of credit between two parts would provide a great facility for export, he proposed.
Kenya is ready to conduct joint ICT, medical and phraseological projects with Iran, Ikiara said during the meeting.
He said that Kenya stresses the importance of preservation of the environment and focuses on clean technology.
Over the meeting, Sattari presented a report on activities of knowledge-based companies in Iran.
During his sojourn, he held a trade meeting with representatives of Kenyan companies, in which the Iranian knowledge-based companies introduced their activities.
SB/MQ/MG