In a first, India and China team up to train Afghan diplomats
October 15, 2018 - 22:42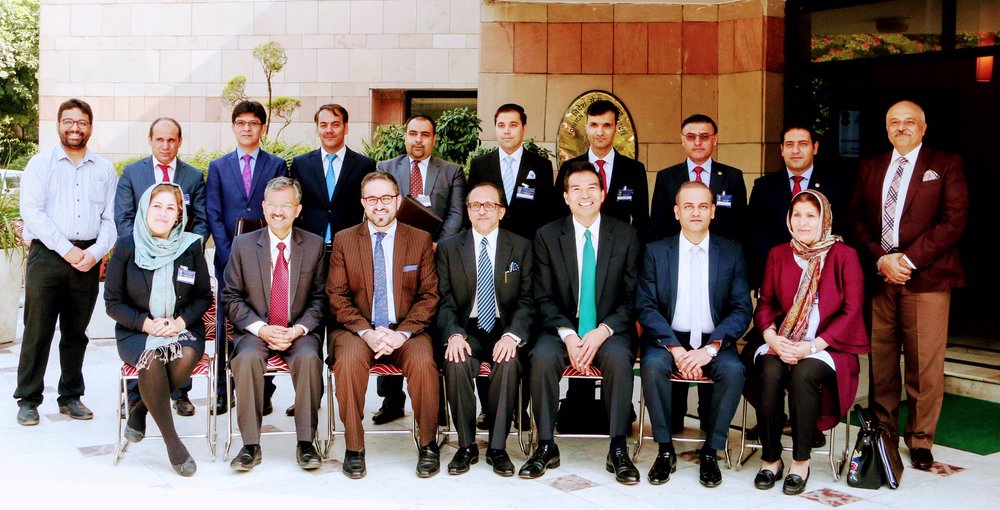 TEHRAN - For all the major regional players, strategic presence in Afghanistan has a deep significance for host of reasons. It is considered as a laboratory for testing each other's power and influence in the region.
While India has used its soft power to good effect in Afghanistan, other regional powers like Pakistan and China have not managed to gain strategic foothold in the war-ravaged country. In yet another attempt to boost its diplomacy in Afghanistan, India has partnered with China to train Afghan diplomats.
Hailed as first such initiative, India and China came together on Monday to provide assistance to Afghanistan through a joint training program for Afghan diplomats.
The Joint India-China Training Program for Afghan diplomats, to be held between October 15 and 26, kicked off on Monday as part of an understanding reached between Prime Minister Narendra Modi and Chinese President Xi Jinping in Wuhan.
Ten Afghan diplomats are being trained at the Foreign Service Institute (FSI) in India. The program began after the statements by India's External Affairs Minister Sushma Swaraj and Chinese Foreign Minister Wang Yi were read out by the diplomats of the two countries.
China's Ambassador to India Luo Zhaohui, in his remarks at the launch of the program, said such a China-India Plus cooperation should be extended from Afghanistan to other countries such as Nepal, Bhutan, Maldives, Iran and Myanmar.
Describing India as a regional major power, he said China and India can also join hands under the mechanisms of South Asian Association for Regional Cooperation (SAARC), Bay of Bengal Initiative for Multi-Sectoral Technical and Economic Cooperation (BIMSTEC) and Bangladesh, China, India, Myanmar Forum for Regional Cooperation (BCIM), to promote regional peace, stability and prosperity.
Both of us (China and India) support an Afghan-led and Afghan-owned peace and reconciliation process. Both of us uphold that Afghanistan should realize peace, stability and prosperity. Both of us are against terrorism, said the envoy, reiterating support to Afghan peace process, at a time when the terrorist groups have upped the ante across Afghanistan.
?We are talking a lot about the regional connectivity initiatives, such as International North-South Transport Corridor, India-Afghanistan-Iran transit and trade arrangement and China-Pakistan-Afghanistan cooperation. All of these have provided a solid foundation for the current and future cooperation between China and India in Afghanistan, he said.
Noting that the training program is the first step for the China-India Plus cooperation in Afghanistan, the Chinese envoy said this was just the beginning.
Swaraj, in her statement that was read out by FSI Dean Ambassador J S Mukul, said the seeds for joint cooperation in Afghanistan were sown at the meeting between Prime Minister Modi and President Xi when they met in Wuhan in April 2018.
Today, we see it blooming with the initiation of this training program. This marks the beginning of what we visualize as a long term trilateral partnership for the benefit of Afghanistan, Swaraj was quoted as saying.
She added that India is committed to partner Afghanistan in its efforts to emerge as a united, peaceful, secure, stable, inclusive and economically vibrant nation. Talking about India's New Development Partnership with Afghanistan, she said it aspires to bring prosperity to all 34 provinces of Afghanistan through high impact community development projects.
There were four broad pillars of the program building infrastructure, developing human resource, enhancing connectivity, and promoting trade and investment links, she said, noting that the India-Afghanistan friendship dam in Herat, Parliament building in Kabul, and operationalization of the Chabahar port were prominent symbols of this partnership.
Chinese Foreign Minister Wang, in his statement read out by the Chinese ambassador, said the launch of the program marks an important step forward as it reflects the closer coordination and cooperation between two countries on regional affairs and represents a positive development in Sino-India relations.
China and India have been active supporters of Afghanistan's peace, and reconstruction process. This Joint Capacity Building Program is an essential part of the international efforts to assist Afghanistan and marks the start of China-India-Afghanistan cooperation.
It is a testament to the joint aspiration and endeavor of China and India, both being major, responsible developing countries, to contribute to regional peace and stability, Wang said.