Rouhani says Iran-Iraq economic ties can increase to $20 billion
Barham Salih: Iraqis won't forget Iran's help in war against terrorists
November 17, 2018 - 13:44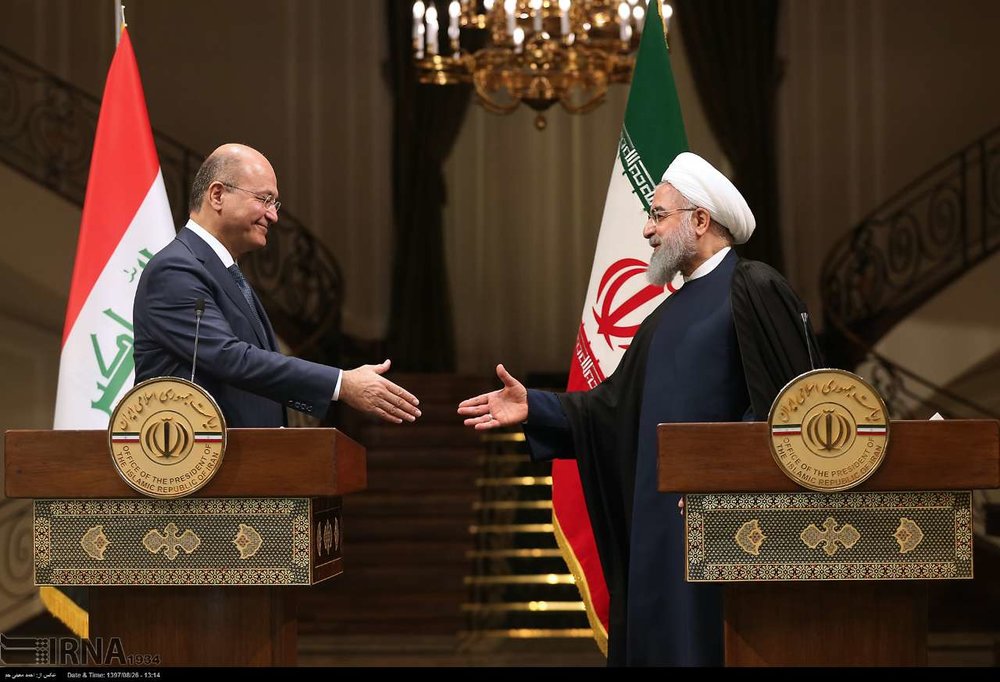 TEHRAN – Iraqi President Barham Salih, who arrived in Tehran on Saturday, said his country will not forget Iran's support for the Iraqis in their struggle against the regime of Saddam Hussein and Daesh terrorists.
"Through its support for us, the Islamic Republic played a great role in defeating terrorists in Iraq," Salih said in a joint press conference with President Hassan Rouhani.
Saleh, an ethnic Kurd, added, "We will not forget your support for the Iraqi people during the struggle against Saddam."
Relations between Iran and Iraq have improved greatly since the downfall of Saddam Hussein in 2003.
The veteran politician said, "Today I have brought a clear message from Baghdad and that we in Iraq comprehend the importance of relations with Iran very well."
He added, "Economic, cultural and political ties between the two countries have roots in history."
Salih said his country is seeking closer ties with Iran and "this is something that the nations of the two countries and the nations in the region are entitled to".
The new Iraqi president who has started a tour of the regional countries has already visited Kuwait, the UAE and Jordan.
'Very important and special relationship'
At the press conference, Rouhani also said that it is quite clear that relations between Iran and Iraq are "very important and special".
Rouhani added all current officials in Iraq enjoy more than 30 years of cooperation with Iranian officials in campaign against despotism in Iraq and establishing security in the country.
Iran hosted hundreds of thousands of Iraqis - Kurds and Arabs - during Saddam Hussein's bloody purges in northern and southern Iraq. Some current and former Iraqi officials lived in Iran during their struggle against Saddam's dictatorship.
Rouhani says Iran-Iraq economic ties can increase to $20 billion
President Rouhani also said the economic transactions between Iran and Iraq can increase to 20 billion dollar per year.
"Today, the value of economic ties between the two countries stands at about 12 billion dollars and we can upgrade it to 20 billion dollars through mutual efforts," Rouhani remarked.
Joint free trade zone
Rouhani also said during his talks with Salih that the two sides had agreed to establish a joint free trade zone.
Rouhani also said Iran and Iraq held talks on linking the two countries' railways in the south and the west. As an example, the president said, the ground is prepared to link the Shalamcheh railway to Basra inside Iraq by an Iranian company.
Shalamcheh is a town in Iran's Khuzestan Province. It is situated on the border with Iraq.
Pledge to counter dust storms
The Iraqi president also pledged to counter dust storms originating from Iraq and affecting the lives of citizens in southwestern and western Iran.
Rouhani also said he is pleased that Salih promised to raise the issue of dust storms in Iraq.
Shamkhani: The U.S. cannot undermine Iran-Iraq ties
During a separate meeting with Salih, Iran's Supreme National Security Council Secretary Ali Shamkhani said that the U.S. is not able to undermine the "friendly relations" between Iran and Iraq.
"The U.S. and certain reactionary countries in the region which seek to damage friendly relations between Iran and Iraq through various plans will get nowhere," he said.
He added the U.S. strategy to use terrorism as tool against regional countries has already failed.
Iran's security chief also said Washington seeks to use sanctions to exert pressure on independent countries.
Salih said that Baghdad will not allow any country to cause harm to Iran by Iraq.
Iraq will counter any action which is intended to harm its unity with Iran, he added.
The Iraqi president said that there are many affinities between the Iraqi and Iranian nations and that relations are based on "mutual interests".
Salih also held separate talks with Iranian Parliament speaker Ali Larijani and Foreign Minister Mohammad Javad Zarif.
PA/PA