Flash flood hits southwestern Iran, villages evacuated 
January 30, 2019 - 16:57
TEHRAN — Heavy rainfalls in northern and eastern parts of the province of Khuzestan, southwestern Iran, have led to devastating flood hitting the region over the past three days leading to evacuation of some villages, Khabaronline reported.
Due to the excessive rain Karun, Karkheh and Dez rivers overflew their banks and inundated many cities and villages in Ahvaz, Shush, Dasht-e Azadegan, Howeyzeh, Dezful and Shushtar, the report added.
Three levees in cities of Dasht-e Azadegan, Rafi, and Howeyzeh were damaged and breached and the area was flooded. Agricultural lands as well as houses were inundated by flood.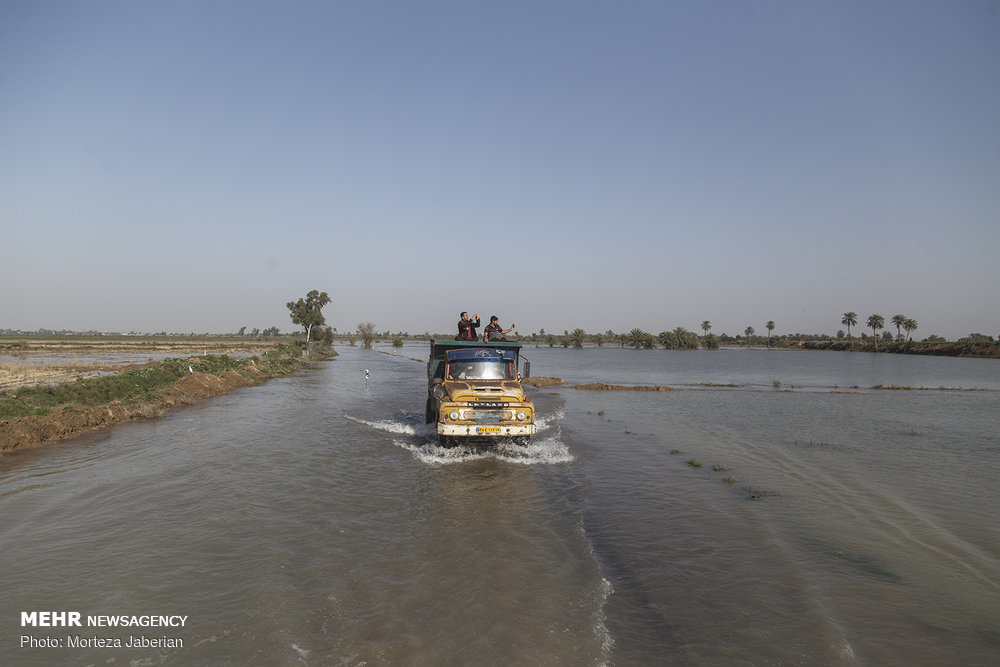 According to the data published by Iran's Meteorological Organization the precipitations of the past few days were unprecedented for the past 40 years in the province.
Forecasts predicted heavy rainfalls for the province on January 26 to 29 so that the water stored behind the dams were released to the rivers in order to stop dams from overflowing, however, old infrastructure and levees didn't stand the flood and villages located in the basins of the rivers were flooded.
Khuzestan province rescue and relief organization deputy director Sadeq Salamat told ISNA news agency that so far some 2,830 families received relief services in the area, levees are being retrofitted and the flood victims are accommodated.
He also explained that villages and cities in Shush, Shushtar, Dasht-e Azadegan, Dezful, and Howeyzeh were evacuated.
According to data released on Wednesday by the National Drought Warning and Monitoring Center since the beginning of summer the province of Khuzestan received 369.2 millimeters of rain while last year's precipitations in the area amounted to 61.6 millimeters.
MQ/MG