European nations eager to join INSTEX: Belgian official
March 18, 2019 - 21:53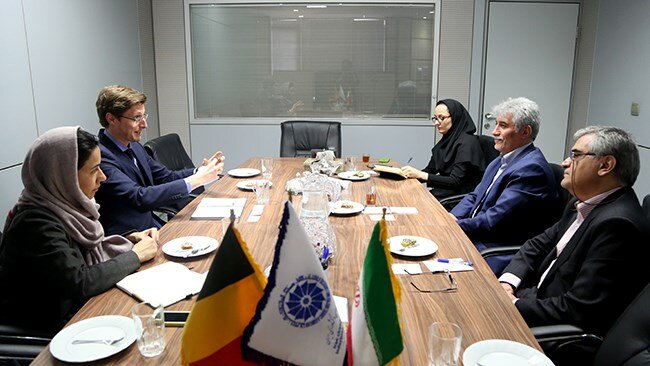 TEHRAN – The Belgian embassy's commercial attaché to Tehran said European countries are willing to join the financial mechanism with Iran known as Instrument in Support of Trade Exchanges (INSTEX), the portal of Iran Chamber of Commerce, Industries, Mines and Agriculture (ICCIMA) reported.
"There are still risks in trade with Iran, however alongside Britain, France and Germany as founders of INSTEX, other European countries are willing to join this financial mechanism," Christopher Smith said.
The official made the remarks in a meeting with ICCIMA deputy head for international affairs Mohammad-Reza Karbasi on Monday at the ICCIMA building in Tehran.
Smith noted that European small and medium-sized enterprises (SMEs) are eagerly waiting for the implementation of the INSTEX and the determination of its operational framework.
The business adviser, stressed the interest of Belgian companies in maintaining trade ties with Iran, saying, "Currently, a part of the Belgian trade with Iran is being carried out through third parties, but we are looking for the right solutions in the current situation for expansion and development of our bilateral economic relations."
Karbasi, for his part, criticized the delays in the implementation of INSTEX and called for clearance in the mechanism's details.

"In the current situation, it is necessary that EU determines the operational details and framework of INSTEX as soon as possible," Karbasi said.
On January 31, France, Germany and Britain announced the creation of INSTEX as a special purpose vehicle aimed at facilitating legitimate trade between European economic operators and Iran.
European Union foreign policy chief Federica Mogherini, French Foreign Minister Jean-Yves Le Drian, German Foreign Minister Heiko Maas and British Foreign Secretary Jeremy Hunt have said INSTEX will support legitimate European trade with Iran.
Russia and China have also remained publicly committed to the existing accord.
EF/MG