By Ehsan Tehrani
Precision-Guided Message
April 28, 2023 - 22:57
Iran FM visits border with occupied Palestine, says Zionists only understand language of force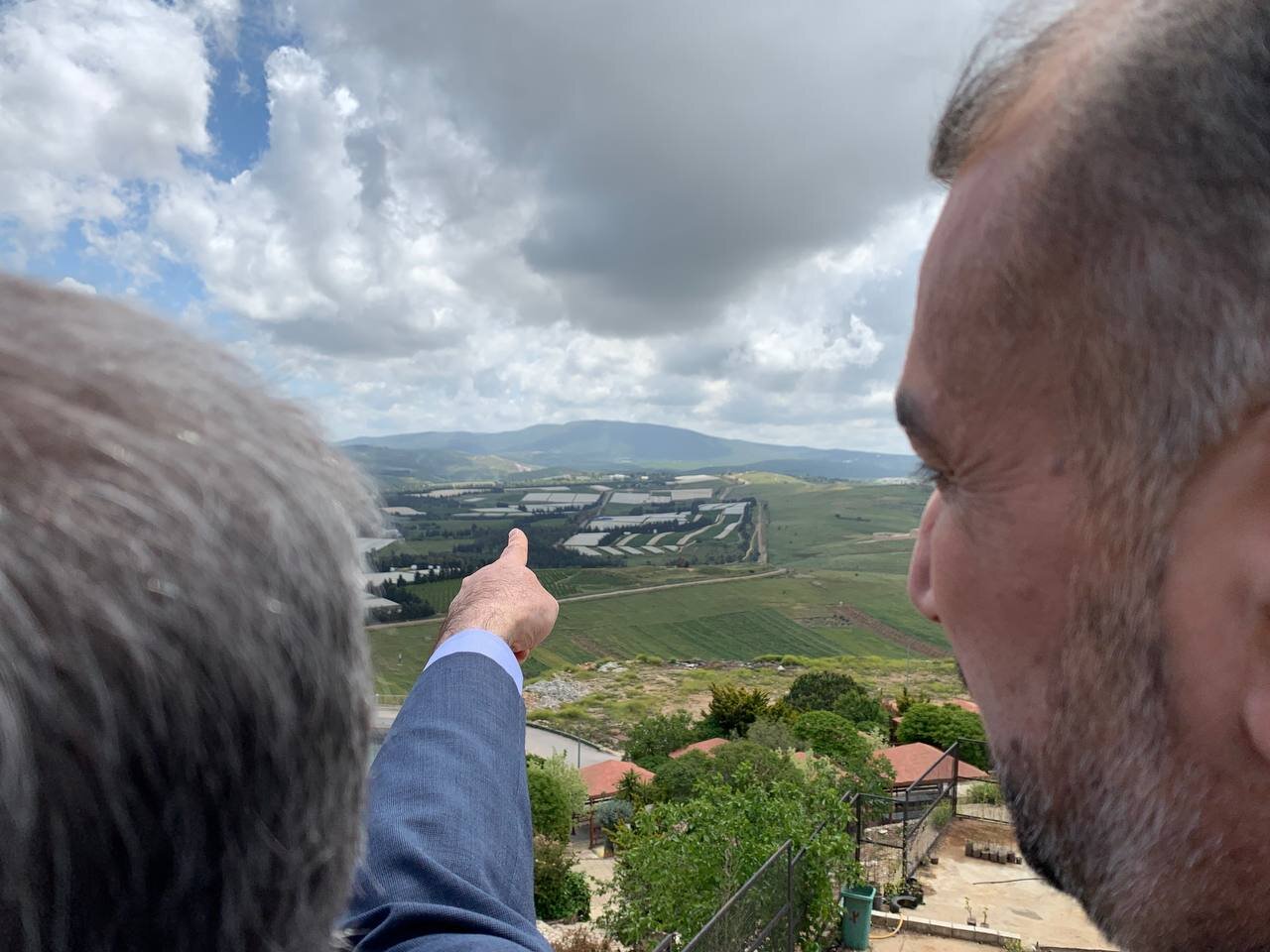 TEHRAN- As part of his tour of Lebanon, Iranian Foreign Minister Hossein Amir Abdollahian visited Maroun Al Ras village near the border with the occupied Palestine where he insisted on supporting the resistance movement against Israel.
Addressing reporters, Amir Abdollahian praised all martyrs who have lost their lives in the struggle to liberate Palestine, especially General Qassem Soleimani and his comrade Abu Mahdi al-Muhandis.
During his tour of the border point, Iran's top diplomat reiterated Tehran's unwavering support for Lebanon in tough times.
It is widely believed that primitive mentality only knows the language of force and this is true of the Israeli regime. More than seven decades of occupation shows that resistance is the only option to liberate Palestine.
The presence of Iran's foreign minister in a nearest place to the Tel Aviv regime signals the Islamic Republic's full support to the Resistance Front and proves to the occupation regime's officials that only one wrong move can make them unable to see the next sunlight.
Such a visit has stolen the limelight from the Israeli media because they cannot imagine Iran is capable enough to target them even at such a closest distance.
Many indicated that such a visit is a response to the Israeli officials' recent trips to the countries in northern Iran, including Azerbaijan and Turkmenistan.
Abdollahian also reiterated Tehran's long held policy to hold a referendum in occupied lands with the participation of all native inhabitants to determine their destiny.
Iran, Hezbollah exchange views over regional issues
Iran's foreign minister visited Lebanon after concluding his visit to Oman on Wednesday afternoon.
While in Beirut he held talks with several Lebanese officials and figures, including Hezbollah Secretary General Sayyid Hassan Nasrallah.
Amir Abdollahian and Nasrallah, who met on Friday, discussed the most recent regional developments, including the restoration of diplomatic relations between Iran and Saudi Arabia and its implications on regional countries. They also discussed recent events in the region, the situation in Lebanon as well as Palestine.
Mojtaba Amani, the Iranian ambassador to Lebanon, also attended the meeting.
Lebanon welcomes Tehran-Riyadh rapprochement
In yet another meeting on Thursday with Lebanese Prime Minister Najib Mikati, Amir Abdollahian reiterated Iran's readiness to build power plants for the Arab nation to meet its energy needs.
They also discussed matters of mutual interest.
Regarding bilateral cooperation, Abdollahian emphasized the need for greater linkages between Tehran and Beirut in a number of areas, particularly in light of the potential for advancing economic and commercial partnership.
The foreign minister also stated that Iran is prepared to share its expertise with Beirut and offer technical support in the areas of power plant building, operation, and maintenance work.
He continued by reiterating Iran's support for Lebanon's stability as well as support for the government, army, and resistance.
The senior diplomat said that Lebanon's issues, such as electing president and conclusion of political processes, should be resolved by the Lebanese themselves through dialogue among the political groups.
Amir Abdollahian noted that international assistance and initiatives may support the Lebanese people's choice without meddling in the country's internal affairs provided they are accompanied by goodwill and welcomed by the Lebanese government and people.
He concluded by outlining Iran's position on the events in Afghanistan, Palestine, Yemen, Sudan, and Ukraine.
Mikati, for his part, emphasized the significance of ties between Iran and Lebanon.
He discussed the present state of affairs in Lebanon and expressed support for the decision to reestablish diplomatic ties between Iran and Saudi Arabia.
Mikati also gave his opinions on the advantages of the détente between Tehran and Riyadh for the region.
He acknowledged Iran's key role in the region and commended Tehran for its helpful approach toward Lebanon.
In a meeting between Amir Abdollahian and his Lebanese counterpart, Abdullah Bou Habib, they went through a number of bilateral, regional, and global concerns.
They also discussed a variety of subjects that were pertinent to both nations in a number of different areas.
Amir Abdollahian also briefed the Lebanese foreign minister of the developments that resulted in the Tehran-Riyadh negotiations. He also mentioned his worries about the threats the Zionist regime to regional peace and security.
The Lebanese foreign minister, for his part, hailed the deal between Iran and Saudi Arabia and expressed optimism for its positive effects on the region, particularly on his own nation given the present circumstances.
The two foreign ministers also spoke on the situations in Ukraine, Yemen, Sudan, Afghanistan, and Palestine.
Iran FM holds talks with Lebanese MPs from various factions
At the Iranian embassy in Beirut on Thursday, Amir Abdollahian also met with a group of Lebanese lawmakers from various parliamentary factions.
Lawmakers praised the favorable effects of Iran-Saudi reconciliation on all regional countries, including Lebanon.
The meeting was hailed by the Lebanese MPs as a successful gesture and a step toward improving ties between Iran and Lebanon.
Applauding the Tehran-Riyadh diplomatic rapprochement, they argued that the region as a whole, including Lebanon, would benefit from such a new move.
The Lebanese lawmakers also described the state of affairs and recent changes in Lebanon.
He also urged all Lebanese parties to start a discussion to find solutions to the country's ongoing issues, notably the presidential election.
The foreign minister emphasized Tehran's readiness to assist in resolving Lebanon's issues and said Iran is a friend of Lebanon in hard times.
Iran calls for Muslim unity as opposed to Israeli incursions
In a meeting with the Leader of the Palestinian Islamic Jihad Movement Ziyad al-Nakhalah in Beirut on Thursday, Amir Abdollahian also emphasized the need for Muslim countries to band together in favor of the Palestinian people and to take strong measures to discourage future aggressions and criminal activities by the Zionist regime.
Amir Abdollahian emphasized the necessity of unification among all Palestinian parties while reiterating Iran's unwavering and moral attitude of assisting resistance movements against the Zionist regime and the oppressed Palestinian people.
The Iranian foreign minister highlighted the need for unity among all Palestinian groups as well as among Muslim governments and countries in favor of the Palestinian nation.
For his part, Nakhalah recognized the importance of Iran's political backing for Palestine in regional and global bodies.
He noted that the Palestinian people's morale and resistance are at their highest point in decades, and this is due in large part to Iran's actions and policies.