Iran downplays U.S. worries over growing collaboration with neighbors
May 19, 2023 - 21:25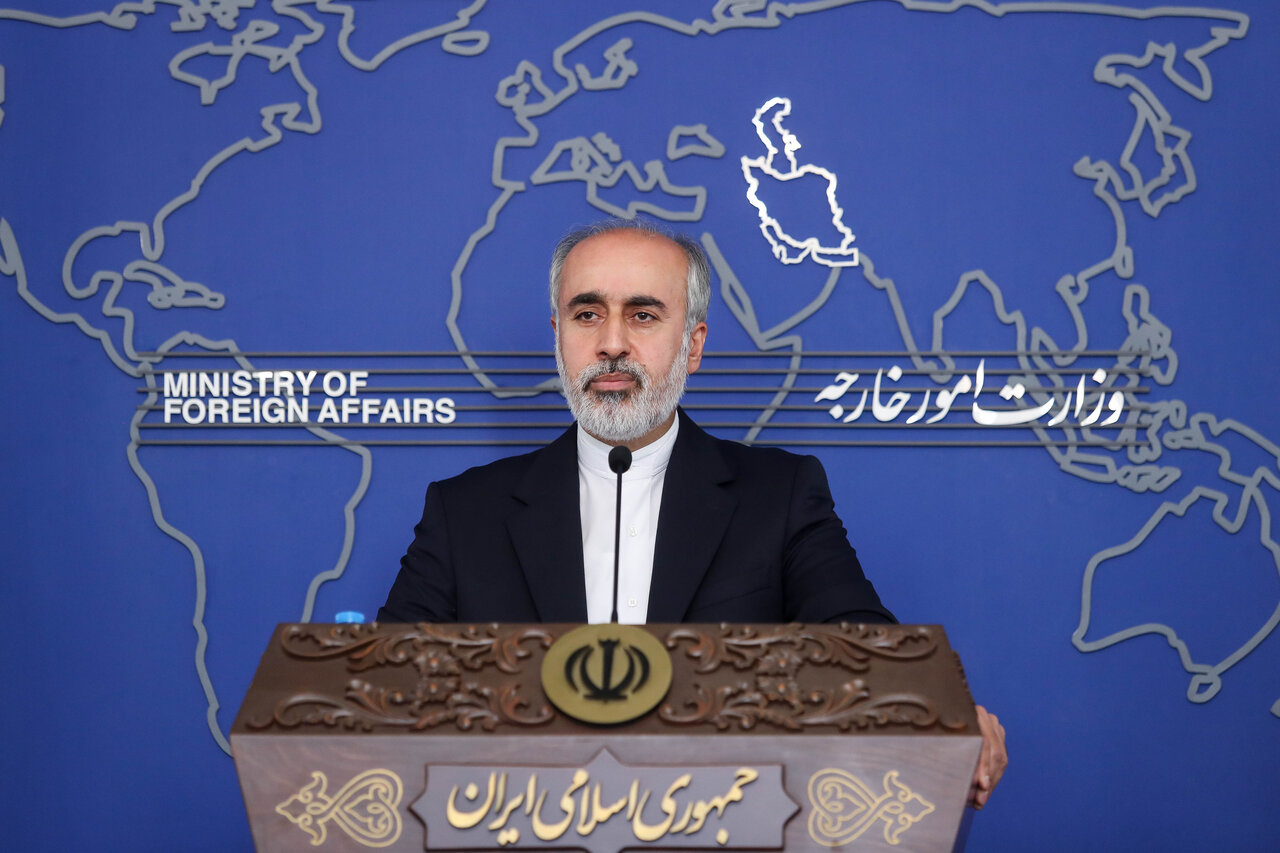 TEHRAN- The Joe Biden administration's concerns about Tehran's expansion of trade cooperation with other nations have been dismissed as "unjustified and invalid" by the Iranian Foreign Ministry spokesman, who said that the most recent agreements with Russia and Pakistan are in line with Iran's emphasis on the policy of good neighborliness.
The inauguration of joint border projects in the presence of Iranian President Ebrahim Raisi and Pakistani Prime Minister Shehbaz Sharif as well as the signing of an agreement on the completion of the Rasht-Astara railroad were all carried out in accordance with Iran's "neighbor-oriented" policy, Nasser Kanaani said in a post published on his Twitter page on Thursday.
He stressed that the cornerstone of such a plan is "cooperation for common security, development, and welfare."
Kanaani made his comments after the principal deputy spokesperson for the U.S. State Department expressed alarm about the recent deal between Iran and Russia on the building of the Rasht-Astara railroad, a crucial portion of the North-South Corridor that links South Asia to North Europe.
At a news conference on May 17, Vedant Patel stated, "We of course would find deeply concerning any steps or any project being undertaken to go around sanctions."
Iran dismisses links to people arrested in Azerbaijan
On Thursday, Kanaani also reacted to allegations by Azerbaijan that it had arrested a number of individuals with links to Iran, saying Iran didn't have any links to them.
Kanaani said Azerbaijan's security apparatus and prosecutor-general have been leveling "chain of accusations" against Iran.
"Unfortunately, the government of the Republic of Azerbaijan has been arresting and keeping its citizens in custody for some time on a charge and bogus allegation of links with Iranian institutions," he said in a statement, according to Tasnim.
He said Iran did not have any official or unofficial ties to the detained persons.
"The popular relationships between the citizens of the two countries are heartfelt, emotional, historical, religious and even family-based. The government of the Republic of Azerbaijan should not attribute such deep-rooted and historical bonds of its nationals to security issues or associate them with neighbors," Kanaani added.
Kanaani noted that every government has the inherent right to take action against the law-breaking citizens, but made it clear that Baku's move to arrest and imprison many citizens by making the allegation of connection with Iran is inadmissible and unacceptable.
The Republic of Azerbaijan's interior ministry, security service and the office of prosecutor general said in a joint statement on Tuesday that at least nine Azeri nationals have been arrested, suspected of being "linked to Iranian secret services and of plotting a coup and assassinations".
The statement gave nine names and said several other people had been arrested.
He said, "The relationships between the two countries are unbreakable, and we should not take any actions that are not in the interests of the two countries but are in the interests of the parties who want to harm those relations."
Iran condemns G7 'baseless', 'irrational' claim
The Iranian Foreign Ministry spokesman also vehemently refuted a statement by the the Group of Seven advanced economies, urging them to stop participating in unlawful U.S. sanctions on Iran and stop leveling "baseless" accusations against the Islamic Republic.
In a statement released on May 13, the G7 finance ministers and central banker emphasized that they were concerned about "the risk of illicit financing coming from Iran."
Kanaani went on to add, "We strongly reject that part of the G7 finance ministers' statement that makes a wholly unfounded and irrational charge against the Islamic Republic of Iran."
He asked the small number of states that are "attempting to impose their wishes on others to stop their deplorable practice of accompanying and appeasing the illegal U.S. sanctions against the great Iranian nation, which violate the fundamental principles of international law and human rights."
The G7 countries should be held accountable for their flagrant violations of international law, Kanaani continued, rather than approving and participating in "unilateral and unfair positions" against the Iranian people, Kanaani noted.
The G7 is a political forum made up of Canada, France, Germany, Italy, Japan, the United Kingdom, and the United States. The European Union (EU) is classified as a "non-enumerated member."