Leader: Israel will cease to exist in 25 years if struggles persist
December 14, 2016 - 19:41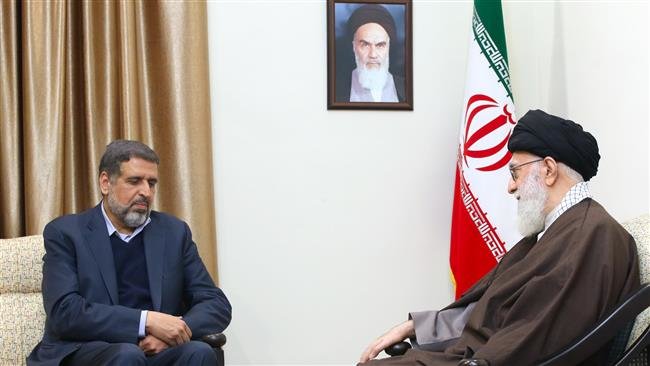 TEHRAN – Leader of the Islamic Revolution Ayatollah Ali Khamenei said on Wednesday that the Zionist regime would cease to exist in the next 25 years if the Palestinians persist in their "collective" struggle and close their ranks.
The Leader made the remarks in a meeting with Ramadan Abdullah Shalah, head of the Palestinian Islamic Jihad movement.
"As we said before, the Zionist regime will cease to exist if there is a collective and united fight by the Palestinian and the Muslims against the Zionists," Ayatollah Khamenei said.
Praising the Palestinians' resistance, the Leader said the only way "to liberate the holy city of al-Quds passes through struggle and resistance, and other solutions are futile."
He expressed hopes about the future of the Palestinian Islamic Jihad movement and praised its role in uniting Palestinian groups and its resistance against Israel.
Ayatollah Khamenei said the supporters of the Zionist regime create crises all the time, so that the Palestinian issue would sink into oblivion.
The Leader also described the United States as "a big arrogant power" and "Great Satan," noting Washington is the main culprit behind the current problems in the region.
The Leader criticized what he called "Little Satans" of the region, saying, "Their goal is to undermine the Palestinian issue so that the [Muslim] nations would forget about it."
Ayatollah Khamenei further said that the conflicts have been created by certain regional countries through interference in the affairs of other states.
He also pointed to Iran's active role in defending the Palestinian cause.
"Despite being involved in some regional issues, the Islamic Republic has always stated explicitly that Palestine is the top issue in the Muslim world."
He further said that Iran would fulfill its moral obligations regarding the Palestinian issue.
Elsewhere in his remarks, Ayatollah Khamenei rejected claims that the regional conflicts were rooted in religious issues, saying it was the U.S. and its regional allies who created such crises and linked religion to them.
"The Sunni people of Aleppo, Mosul and other cities are being massacred by the Takfiri criminals," he said, adding that the crises have nothing to do with Sunnis or Shias.
The Leader further underscored the need for cooperation in fight against Takfiri groups, including Daesh, as one of the regional challenges.
MH/PA