Military chief pledges 'unforgettable lesson' to terrorists after Tehran attack
June 11, 2017 - 20:31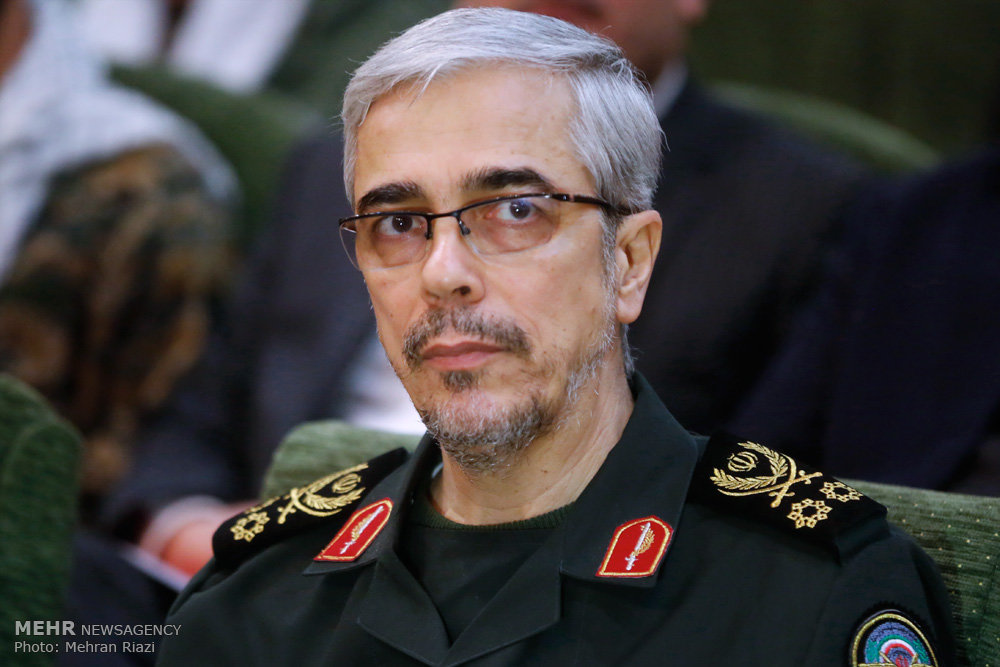 TEHRAN – The head of the Iranian armed forces pledged a "new, unforgettable" blow to terrorists and their backers, warning them not to "even nurture and repeat the mistake" in their minds. 
"Iran's security forces will give new, unforgettable lessons to terrorists and their regional and trans-regional backers," Major General Mohammad Baqeri said in a statement on Sunday.
Baqeri made the comments days after ISIS-linked terrorists launched a twin assault on Iran's Parliament and the mausoleum of the founder of the Islamic Republic, Ayatollah Khomeini on Wednesday.
The attacks left 17 people dead and some 56 more injured, marking the first such attack by the Islamic State on Iranian soil.
"We warn those who participated in the Saudis' recent sword dance as well as those who seek to hatch plots and anti-security scenarios against the Islamic Republic to learn from the fate of the June 7 terrorists and to avoid even nurturing and repeating the mistake in their mind," the senior commander underscored.
"Sword dance" was a reference to the recent visit by U.S. President Donald Trump to Saudi Arabia, during which he performed a traditional dance with Saudi princes with swords in their hands.
Bageri also pointed the finger of suspicion toward what he called "the ominous U.S.-Israeli regime-Al Saud triangle" for the Tehran attacks, emphasizing that "blind terror acts and disgusting fireworks" will not tremble Iran's adamant fight against terrorism.
On Wednesday, Supreme Leader Ayatollah Ali Khamenei dismissed the twin attacks as mere "fireworks" that would not weaken the country's fight against terrorism.
"These fireworks have no effect on Iran. They will soon be eliminated ... They are too small to affect the will of the Iranian nation and its officials," the Leader stated.
Other Iranian authorities implicitly rapped Saudi Arabia for the attacks, launched just hours after Saudi Foreign Minister Adel al-Jubeir said Iran must be punished for its interference in the region, what Iran flatly reject.
In a tweet which appeared to refer to the comments, Zarif said, "Terror-sponsoring despots threaten to bring the fight to our homeland. Proxies attack what their masters despise most: the seat of democracy."
Also, in a statement, the Islamic Revolutionary Guards Corps said Saudi Arabia was behind the attacks.
"This terrorist attack happened only a week after the meeting between the U.S. president (Donald Trump) and the (Saudi) backward leaders who support terrorists. The fact that Islamic State has claimed responsibility proves that they were involved in the brutal attack," read the statement.
"Let there be no doubt that we will take revenge for today's attacks in Tehran, on terrorists, their affiliates and their supporters," promised Brigadier General Hossein Salami, the deputy head of the IRGC.
AK/PA