Iran says U.S. seeking to sabotage nuclear deal
July 22, 2017 - 21:29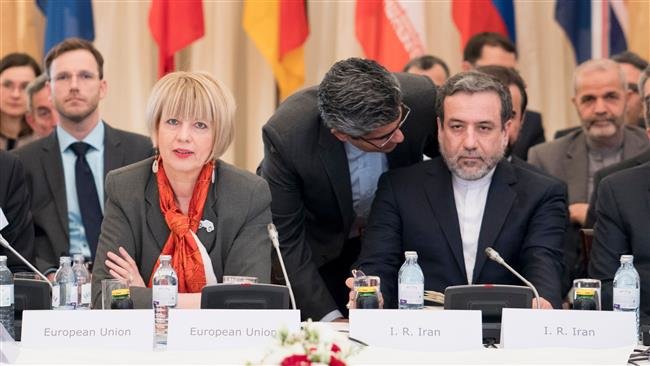 TEHRAN - A top Iranian diplomat said on Friday that the new U.S. sanctions against Iran violate the nuclear deal, accusing the Trump administration of "acting with ill intention" to "sabotage" the UN-endorsed agreement.
Abbas Araqchi was in Vienna on Friday to participate in the regular meeting of the joint commission of the nuclear deal. The joint commission is tasked to monitor the implementation of the agreement.
"We talked in detail about the sanctions and the instances that the Americans had delayed in fulfilling their commitments, the instances where they violated the deal," Aljazeera quoted Araqchi as telling reporters.
The Trump administration confirmed on Tuesday that Iran had met its obligations under the deal; however, it imposed new sanctions against Iran over its missile program.
Araqchi, the deputy foreign minister for legal and international affairs, added, "We showed one by one the instances where the American side in the last year and a half acted without good will and even acted with ill intention."
He also said that the U.S. was "trying to sabotage the situation, to threaten or scare off foreign companies to invest in Iran".
The nuclear deal, formally called the Joint Comprehensive Plan of Action (JCPOA), was signed by Iran and the U.S., Britain, France, China, Russia Germany, and the European Union on July 14, 2015. It went into effect on January 16 2016.
Under the deal Iran agreed to limit its nuclear work in return for termination of all nuclear-related economic and financial sanctions against the country.
However, the new U.S. administration and Republican-controlled Congress have taken steps to impose new sanctions against Iran which are in contrast to the spirit of the deal.
Some Iranian officials, including Foreign Minister Mohammad Javad Zarif, have said the U.S. sanctions move even violate letter of the agreement.
All parties confirm adherence to JCPOA
Representatives from all sides of the nuclear deal gathered in Vienna to address Iran's complaints about U.S. breach of its obligations under the JCPOA.
In a statement issued by Helga Schmid, the EU's deputy political director, all parties to the nuclear deal confirmed adherence to the JCPOA.
"Noting the significance of the second anniversary of the JCPOA all participants confirmed their continued adherence to JCPOA commitments and stressed the need to ensure its full and effective implementation in a constructive atmosphere," read the statement, which was published by the EU website.
It added, "They also reviewed the status of the sanctions-lifting during which the Chair underlined the need to implement the JCPOA in good faith and in all its provisions. Information was shared confirming that, despite existing challenges, there has been a consistent trend of economic engagement as reflected by the latest announcements of major trade and investment deals."
NA/PA