By Mohammad Ali Haqshenas
Faced with e-waste
February 28, 2018 - 21:52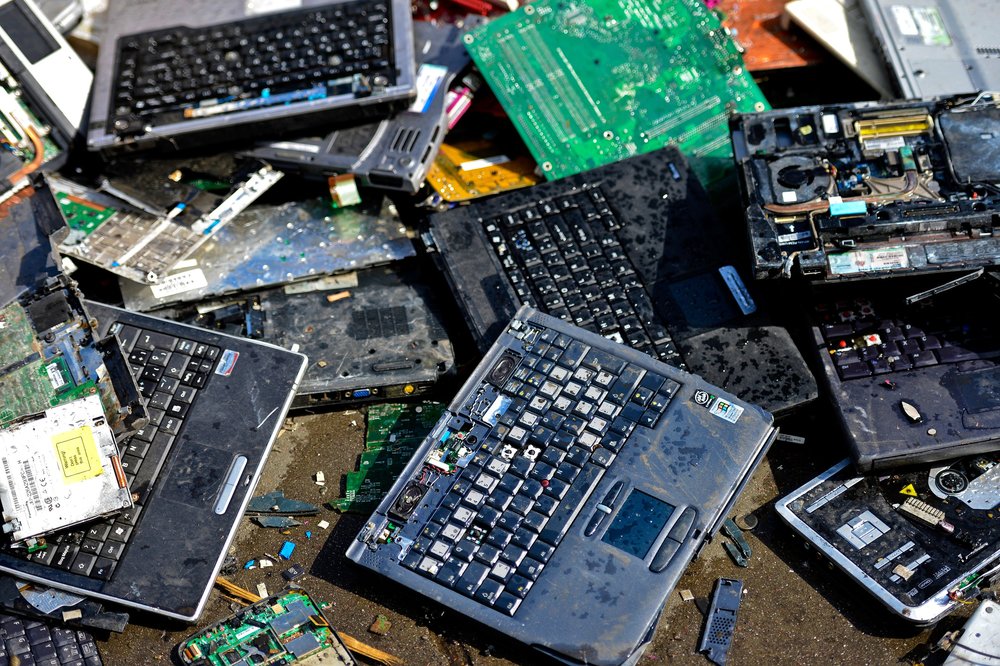 Fortunately for us, we are living in a world where the speed of emerging new technologies and electronic devices increasingly eases many of our daily tasks. These amazing rapid changes encourage or even sometimes force users to buy new devices. And what happens to the old ones? Either they are temporarily stocked at storehouses or thrown away among other waste materials. This is where we are introducing another threat to our environment: e-waste.
What is e-waste?
According to an article published by United Nation University (UNU), e-waste is a term used to cover all items of electrical and electronic equipment (EEE) and its parts that have been discarded by its owner as waste without the intent of re-use. E-waste includes a wide range of products – almost any household or business item with circuitry or electrical components with power or battery supply.
Globally, the amount of e-waste is projected to grow to some 49.8 million tons by this year, which is really a significant amount considering its environmental impacts.
Environmental threats of e-waste
Improper disposal of these electronic wastes can affect soil, air, and water.
It's a bit strange in the first glance but true that e-waste can lead to air-pollution. How? One of the approaches to recycle some e-waste, like wires, is burning them to the level that copper or other metals can be exploited but inappropriate burning methods, especially pursued in developing countries, leads to the emission of hazardous gas to the air.
As long as e-waste is not recognized as a major concern by the public, no practical and efficient measure would be adopted in this regard.
Heavy metals such as lead, barium, mercury, lithium which found for example in batteries and mobile phones can leach into the soil and reach groundwater channels and eventually, find their way to the surface through streams or pounds. The chemicals will result in poisoning and death of plants, animals and local communities which use these water resources.
The same happens for soil. Heavy metals which have entered the soil will be absorbed by plants and eventually, consumed by animals or humans.
Thus improper disposal of e-waste not only has effects on the environment, it indirectly and ultimately poses grave dangers to humans and livestock.
E-waste management
Landfilling, acid bath, incineration, recycling and reusing are among the main methods for treating e-waste which are being used in different countries.
Surely, the best and most environment-friendly method of treating e-waste is recycling. It involves dismantling of the electronic device, separation of the parts having hazardous substances like CRT, printed circuit boards etc. and then recovery of the precious metals like copper, gold and lead can be done with the help of an efficient powerful e-waste recycler.
Tokyo 2020 Medal Project
Japan, a developed country with huge appetite for new technology, is one the first nations that recognized the threats of e-waste.
In an unprecedented act, organizers of 2020 Olympics has launched a green initiative known as Tokyo 2020 Medal Project which is in part a response to the global e-waste crisis.
They have called on the Japanese population to donate their discarded or obsolete electronic devices. The aim is that the metal collected from these devices will be used in the production of the medals for the games, the official website of the International Olympic Committee reported in February 2017.
The organizing committee aims to collect as much as eight tons of metal (gold: 40 kg - silver: 4,920 kg - bronze: 2,944 kg), which after the production process will result in two tons, an amount needed to produce 5,000 Tokyo 2020 Olympic and Paralympic medals.
The advent of sophisticated recycling technology has played a major role in the mere success of Japan's electronic-waste recycling program. Japan has approximately 100 major electronic waste facilities, as well as numerous smaller, local collection and operating facilities.
E-waste in Iran
Unfortunately, there are no accurate figures available for the volume of e-waste produced in Iran, said Fatemeh Akbarpour, one the experts in Tehran's Department of Environment, ISNA reported on Wednesday.
Researches indicate that Iran has the biggest share in using computer equipment in the region which inevitably results in more e-waste, she highlighted.
Recycling e-waste has not been considered serious enough in the country, she regretted. The amount of produced e-waste in the past was not significant enough both for officials to take appropriate recycling methods into account and for investors to regard it as a profitable business, but circumstances have changed now, she highlighted.
Calling for more support for recycling programs, Akbarpour considered them as an excellent example of resistance economy and green sustainable development.
She also touched on the guidelines which have been developed in the Department of Environment regarding e-waste treatment. According to the guideline companies which import or produce electronic equipment are responsible for their collection and recycling, she added.
Criticizing the lack of any public concern regarding the e-waste hazards, the expert went on to say that as long as e-waste is not recognized as a major concern by the public, no practical and efficient measure would be adopted in this regard.
"The main problem is not lack of law, rather lack of determination for implementing them," Akbarpour concluded.
Tehran Municipality has established especial kiosks for gathering recyclable materials including e-waste. No doubt that this is a positive step.
The municipality offers all recyclable waste of the city to third party contractors. And this is where we can ask whether the methods used by these contractors for e-waste recycling and extracting its precious materials are environmental-friendly or not.
MAH/MQ/MG