Pakistan PM says China is cornerstone of Pakistan's foreign policy
September 10, 2018 - 22:43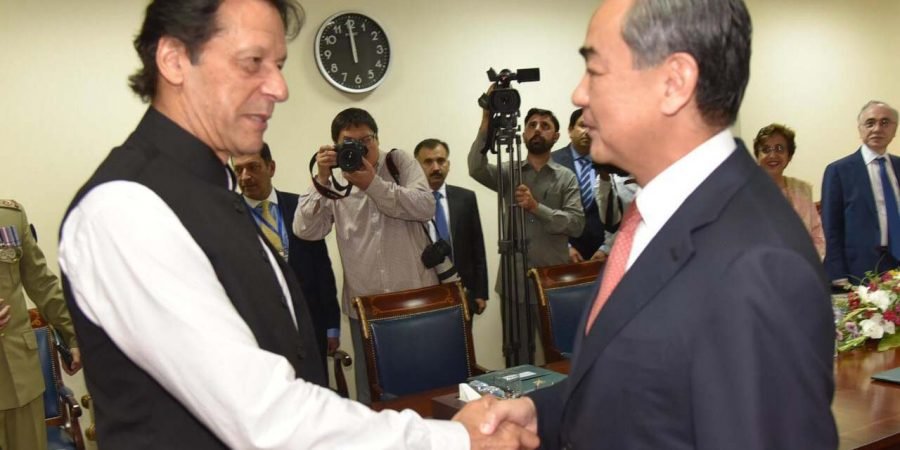 TEHRAN - The new all-weather allies, Pakistan and China, took another big leap to strengthen their bilateral ties during Chinese Foreign Minister Wang Yi's first official visit to Islamabad since the formation of new government in Pakistan.
Wang, accompanied by a high-level delegation, was on a three-day visit to Pakistan during which he held wide-ranging deliberations with political and military leadership in Islamabad, including Prime Minister Imran Khan, President Arif Alvi and Army chief Qamar Bajwa.
"Foreign Minister underscored the significance of the China-Pakistan Economic Corridor (CPEC) for the mutual benefit of the people of both countries," Prime Minister Imran Khan's office said in a statement.
Wang conveyed the desire of Chinese government to work closely with the new political dispensation in Islamabad to further enhance the strategic partnership between the two neighbours.
PM Khan, according to a statement issued by his office, reiterated that Pakistan's friendship with China is a cornerstone of Pakistan's foreign policy, and reaffirmed commitment to the implementation of the CPEC.
Khan sought to send a strong message to the U.S., the old ally of Pakistan, which is presently entangled in a bitter trade war with Beijing. Pakistan's growing proximity with China has raised many eyebrows in Washington, even leading to cancelation of military aid to Pakistan.
The regional situation and global issues also figured in talks between the two officials.
Earlier, Wang met his counterpart Shah Mahmood Qureshi and Army chief General Qamar Javed Bajwa. Qureshi, during his meeting with Wang, said that Pakistan was committed to CPEC which is a "proof of how seamless the belt and road initiative can become with the help of all stakeholders."
The visiting official also attended the swearing in ceremony of new president, Arif Alvi. Alvi, who was sworn in as the new President of Pakistan on Sunday, received Wang as his first foreign guest.
The new president asserted that close friendship with China is in Pakistan's national interest and expressed hope that the CPEC project will bring tangible benefits to the people in Pakistan.
Wang said the bilateral relations between China and Pakistan remain firm despite the changing domestic and international environment, adding that his visit was aimed at holding deliberations with the new Pakistani government.
He said that the CPEC helped create more than 70,000 jobs in Pakistan and contributed to the national growth and rejected concerns that China was burdening Pakistan with debt.
"The CPEC has not inflicted a debt burden on Pakistan, rather when these projects get completed and enter into operation, they will unleash huge economic benefits... and these will create considerable returns to the Pakistani economy," he said, adding that Pakistan's 47 percent debt was due to loans from the International Monetary Fund (IMF) and the Asian Development Bank (ADB).
During his meeting with Alvi, Wang Yi discussed China's experiences on poverty alleviation and combating corruption. He reaffirmed China's willingness to cooperate with Pakistan on international and regional issues.