Some $55m paid for knowledge-based projects
April 3, 2023 - 15:56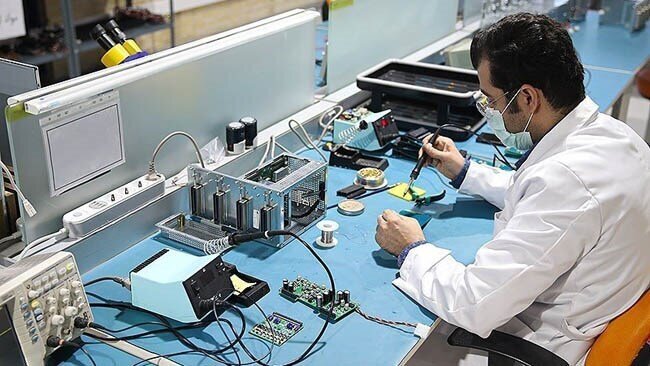 TEHRAN - The Innovation and Prosperity Fund has paid a total of 27.8 trillion rials (nearly $55 million) to support knowledge-based companies over the last [Iranian calendar] year (March 2022-March 2023), IRNA reported.
According to the latest statistics, a total of 8,046 knowledge-based companies are operating in the country.
The number of knowledge-based companies in biotechnology, agriculture, and food industries is 362, in advanced pharmaceuticals is 480, in advanced materials (chemistry and polymer) is 1130, and in advanced machinery and equipment is 1721.
Moreover, 326 companies are operating in the field of medical equipment, 1821 companies in electricity and electronics, 1778 companies in information technology, 397 companies in commercialization, and 31 companies in creative industries and humanities.
In line with the law enforced on May 24, 2022, knowledge-based production is a priority of the government so the plan for promoting knowledge-based products has progressed well so far.
Leader of the Islamic Revolution Ayatollah Seyyed Ali Khamenei designated the current Iranian calendar year, which started on March 21, 2022, as the year of "Production: Knowledge-Based and Job-Creating."
Over the past couple of years, the concept of a 'knowledge-based company' has changed to a 'knowledge-based society', meaning that supporting knowledge-based companies will lead to many social and economic advantages for the public.
The Leader reemphasized the importance of boosting domestic production, as he had done in past years, saying the reason he placed so much emphasis on production was "because it boosts economic growth, it creates employment, it reduces inflation, it increases per capita income and it improves public welfare."
To this end, the Vice Presidency for Science and Technology has executed and supported several projects toward the goal of boosting knowledge-based production.
Moreover, the development of an innovation ecosystem is on the agenda, according to which 65 houses of innovation have been set up across the country.
The country's progressing process of development has accelerated with the emphasis on the formation of the technology and innovation ecosystem and the approval of laws for supporting knowledge-based companies and boosting Iran-made products.
Today, we are witnessing the positive effects of adopting the approach in the economy, culture, and daily life of people.
the Vice Presidency for Science, Technology, and Knowledge-Based Economy has reported that the sales of knowledge-based companies in the fiscal year 1400 (March 2021-March 2022) hit 4,000 trillion rials (about $8 billion) compared to the fiscal year 1399, an increase of 86 percent year on year.
Improving the scientific level of society, achieving high global rankings in the number of scientific articles, references, and patenting, reducing the illiteracy rate, and increasing the number of university courses and students are only a part of the achievements after the victory of the Islamic Revolution.
MG