Coal mine explosion leaves casualties in northeast Iran
May 3, 2017 - 19:13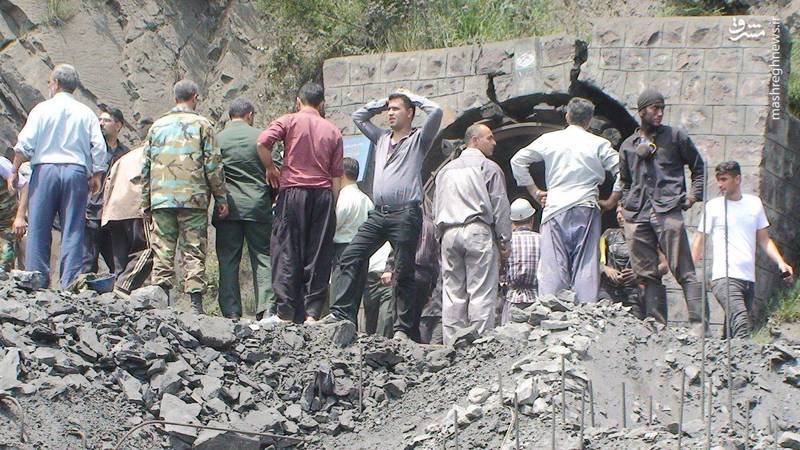 At least two miners have lost their lives and scores of others been injured in a coal mine explosion in the northeastern Iranian province of Golestan.
Sadeq-Ali Moqaddam, head of the emergency department of Golestan Province, has been quoted as saying that up to 26 people are believed to be trapped in the mine following Wednesday explosion.
Ambulances and rescue teams have been dispatched to the location of the mine blast, which is near the city of Azadshahr in Golestan Province, he added.
Hamidreza Montazeri, deputy head of Golestan Province emergency, said that 25 people, who had entered the mine to help the trapped miners, had been taken to hospital due to gas inhalation.
According to managing director of the Red Crescent Society of Golestan Province, Hossein Ahmadi, 21 people have been so far taken out of the mine.
The official stated that a secondary tunnel is being dug to facilitate access to trapped miners, noting that huge amounts of accumulated methane gas have made rescue operations difficult.
Officials have blamed accumulated methane gas for the blast, which happened at 12:45 p.m. local time (0945 GMT).
A local official, speaking on condition of anonymity, said the explosion happened while workers were changing shifts.
Later on Wednesday, Pir-Hossein Kolivand, head of Iran's Emergency Center, corrected earlier reports about the number of miners trapped in the collapsed mine. Noting that the exploded mine consisted of two sections, he added that 40 miners were trapped at one section of the coal mine, while 30-40 others were trapped at another section.
"One of the injured miners is in critical condition and other injured miners are being treated for asphyxiation," Kolivand said.
Kolivand added that so far, 30 people have been injured in the mine blast incident of whom 9 have been hospitalized in the city of Azadshahr and the rest have been sent to three hospitals in the provincial capital city of Gonbad.
Based on the latest report, the governor general of Golestan Province is at the site of the mine collapse and personally oversees rescue operations.
(Source: Press TV)