Iran, UN underline need for increased environmental co-op
October 3, 2017 - 20:13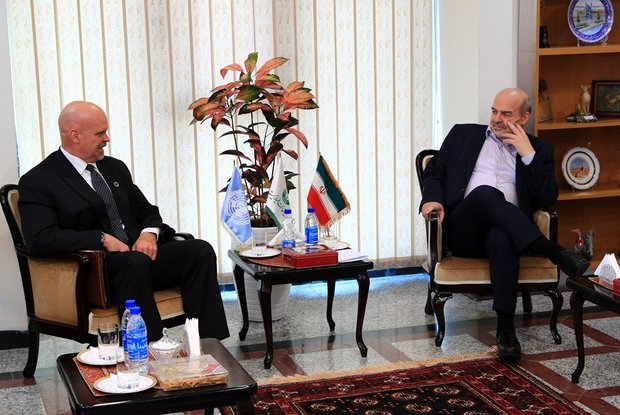 TEHRAN — The UN resident coordinator and UNDP representative in Iran met with the chief of Iran's Department of Environment, emphasizing the importance of greater environmental cooperation between Iran and the United Nations.
According to the Department of Environment official website, Gary Lewis and Isa Kalantari discussed the possibility of strengthening environmental ties between Iran and the UN over a session held in Tehran on Monday.
Mentioning the projects implemented jointly by the United Nations Development Program (UNDP) and Iran, Kalantari noted that considering the modern environmental challenges the world is facing the UN can play an influential role at regional and sub-regional level.
Lewis, for his part, expressed interest in more active and close cooperation between UNDP and the Department of Environment and further expounded on UNDP future environmental projects.

UNDP works closely with a number of committed partners within the government as well as Iran's civil society to support national efforts in sustainably managing the environment and addressing persistent environmental challenges.
Conservation of Biodiversity in Central Zagros Landscapes is a joint project aims to establish a novel type of collaborative conservation system in which all stakeholder groups are fully engaged in planning, implementing and monitoring of resource management planning to ensure the protection and sustainability of use and exploitation of all biodiversity, renewable natural resources and ecological processes.
Conservation of Asiatic cheetah is a long standing initiative between Iran's Department of Environment, UNDP and a number of committed international partners, namely the Wildlife Conservation Society, Panthera, Cheetah Conservation Fund and IUCN's Cat Specialist Group.
Conservation of Iranian Wetlands Project is another project coordinated by the UNDP in Iran. The goal of this project is to enhance the effectiveness and sustainability of Iran's system of wetland protected areas as a tool for conserving globally significant biodiversity. The project is implemented through partnership with Iran's Department of Environment, Ramsar Regional Center in West and Central Asia and UNDP.
Building a Multiple-Use Forest Management Framework to Conserve Biodiversity in the Caspian Hyrcanian Forest Landscape is a project that will conserve biodiversity in key landscapes within the Caspian Hyrcanian broadleaf deciduous forest ecoregion which cover an area of approximately 1.8 million hectares in northern Iran.
Carbon Sequestration Project (CSP) project aims to achieve an area-based development outcomes that sustain eco-system services - including carbon reduction - and socio-economic development - including employment and income generation. The Project is implemented through partnership between the Iranian Ministry of Agriculture, Ministry of Interior's Provincial Governorates and UNDP.
HCFC Phase-out Management Plan for Iran is also another project implemented in Iran by the UNDP that is about the phase-out of ozone depleting compounds called hydrochlorofluorocarbons (HCFCs).
MQ/MG