Iranians rally to condemn riots
January 3, 2018 - 19:54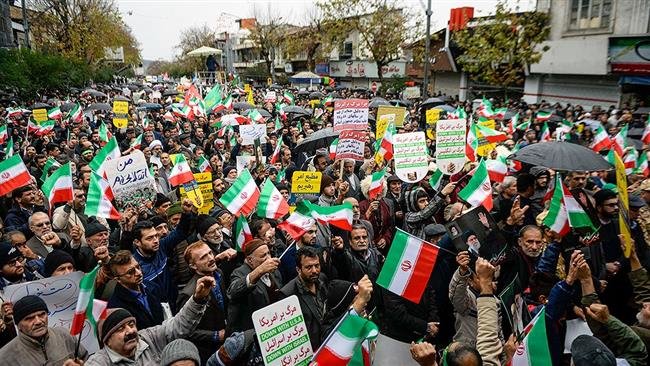 TEHRAN – Iranian people took to the streets in several cities on Wednesday to condemn the recent wave of deadly violence in some cities, and to voice their full support for the Islamic Republic system.
During the rallies, the demonstrators shouted slogans against the United States and Israel, which voiced support for the rioters.
They also chanted pro-government slogans during the mass rallies which were held in different provinces including Ahvaz, Kermanshah, Bushehr, Abadan, Gorgan and Qom.
Other cities are also slated to hold similar rallies on Thursday, while the people in the capital, Tehran, will hold demonstrations after the Friday prayers.
A number of protests were held last week over some issues including high prices and economic problems. However, the protests spread across the country soon and turned violent, with rioters targeting police stations and religious sites.
Dozens of people have been killed since the violence erupted, according to state media reports.
U.S. President Donald Trump took advantage of the unrest and took to twitter to level accusations against Iran in numerous posts.
Authorities in Tehran have responded to Trump's tweets, blasting the U.S. president for interfering in Iran's internal affairs.
Ayatollah Ali Khamenei, Leader of the Islamic Revolution, said on Tuesday that the enemies have been using various tools to hurt the Iranian nation and the Islamic Republic.
"In the recent days' events, the enemies of Iran allied with each other by employing various tools at their disposal, including money, weapon, politics and security organizations, in order to cause problem for the Islamic establishment," the Leader stated.
President Rouhani has said that based on the rights enshrined in the constitution, people are free to criticize the government or stage protests, emphasizing, however, that the protests should be peaceful and constructive.
He said the nation would counter the small group that has used protests as an excuse to chant slogans in violation of law and people's demands, insult the sanctities and values of the Islamic Revolution, and damage public property.
Foreign Minister Mohammad Javad Zarif said "infiltrators" would not be allowed to destroy Iranian people's rights through violence and destruction.
"Iran's security and stability depend on its own people, who — unlike the peoples of Trumps regional "bffs"—have the right to vote and to protest. These hard-earned rights will be protected, and infiltrators will not be allowed to sabotage them through violence and destruction," Zarif said in a message posted on his official Twitter account on Tuesday night.
IRGC Commander Mohammad Ali Jafari said on Wednesday that the day marked the end of the new sedition, emphasizing that the enemies can no longer pose a threat to Iran.
Jafari said the plots orchestrated against the Islamic Republic were natural because the Iranian people have long been rejecting the U.S. as their boss and stand against oppression.
MH/PA