3,404 traffic-related deaths occurred last winter: traffic police chief 
December 14, 2018 - 22:27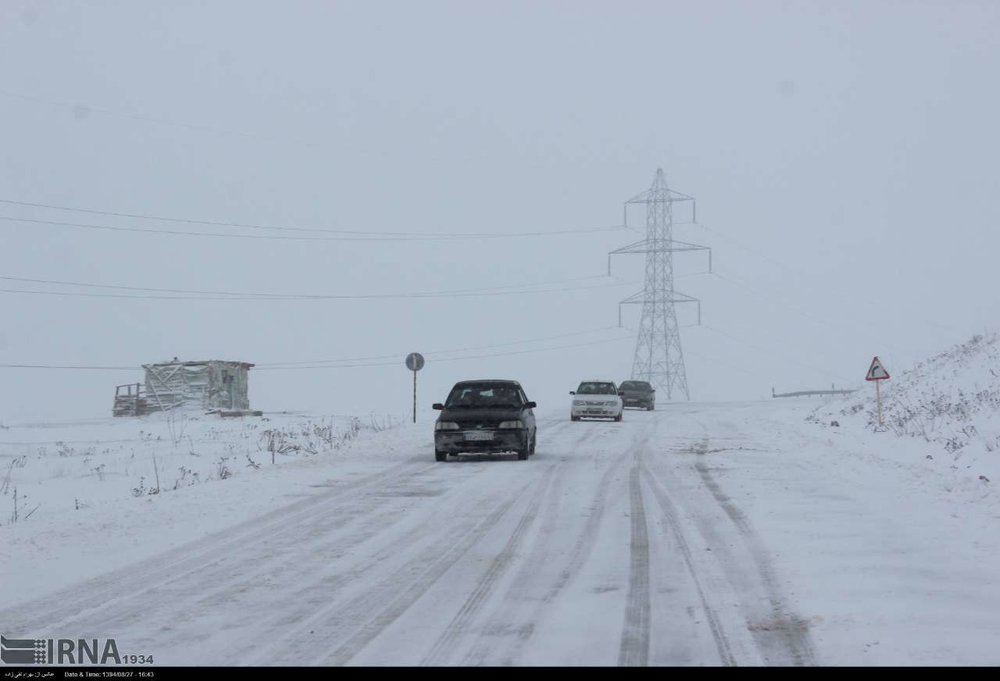 TEHRAN — Last winter, 3,404 traffic-related deaths happened in Iran, traffic police chief Taqi Mehri said on Thursday. 
There are some 500 mountain passes in Iran of which 100 usually get snow in winter and with regard to the fact that this year precipitations have increased respectively driving in such slippery and icy is different from other seasons, Tasnim news agency quoted Mehri as saying.
He made the remarks over a road traffic drill marking the beginning of the winter traffic scheme, with the purpose of increasing road safety during cold weather. The scheme will end on March 13.
"Drivers must be carrying winter equipment for winter driving and should make sure the vehicle they are driving is ready for winter."

Moreover, they must check the roads condition before hitting the road, he said, regretting that last year about 76 percent of the car crashes in winter were caused by over speeding, careless overtaking, distracted driving and drowsy driving.
Elsewhere in his remarks, Mehri highlighted that in order to monitor the roads nationwide some 6,000 more traffic enforcement cameras must be installed.
Since the installment of 2,000 traffic enforcement cameras in roads the number of fatalities has decreased sharply, he added.
Last year (March 2017-Macrh 2018), approximately 16,200 individuals lost their lives in 6,000 fatal road crashes, he said.
"This means that some 3,000 who have violated traffic laws are held responsible for the car accidents while 3,000 were not at fault," he stated.
There are some 33 million vehicles in the country and reckless drivers who are violating the laws must be punished and using new technologies to control such high risk driving behaviors is a must, Mehri concluded.
Meanwhile, Ayoub Soleimani, deputy commander of the Law Enforcement Force of the Islamic Republic of Iran (abbreviated as NAJA), said on Thursday that inadequate traffic management and road safety equipment, sub-standard vehicles, etc. are stopping the trend of declining traffic-related accidents and maybe they contribute to increased road crashes in the future.
"We strived to decrease 27,000 deaths occurred in the year 1385 (March 2006-March 2007) to 16,000 last year (March 2017-March 2018)," Soleimani explained.
The traffic-related deaths decreased by 45 percent over the aforesaid period, he added.
Within the framework of the sixth five-year development plan (2016-2021) such deaths should be dropped by 30 percent, he highlighted.
However, regarding the current road conditions and also poor weather in the current winter, it will be a difficult year for road traffic control, he warned.
According to World Health Organization there were 1.25 million road traffic deaths globally in 2013 and low- and middle-income countries had higher road traffic fatality rates per 100,000 population. Almost half of all deaths on the world's roads are among those with the least protection – motorcyclists, cyclists and pedestrians.
Winter driving tips
Planning and preventative maintenance are important year-round—but especially when it comes to winter driving.
United States Department of Transportation advices that before starting your trip check the weather, road conditions, and traffic. Moreover, familiarize yourself with directions and maps before you go.
You should also keep the following in your vehicle: Snow shovel, broom, and ice scraper. Abrasive material such as sand or kitty litter, in case your vehicle gets stuck in the snow. Jumper cables, flashlight, and warning devices such as flares and emergency markers. Blankets for protection from the cold. A cell phone with charger, water, food, and any necessary medicine (for longer trips or when driving in lightly populated areas).
Know whether your vehicle has an antilock brake system and learn how to use it properly. Antilock brake systems prevent your wheels from locking up during braking. If you have antilock brakes, apply firm, continuous pressure to the brake pedal. If you don't have antilock brakes, you may need to pump your brakes if you feel your wheels starting to lock up.
MQ/MG